Japan's Momochi captures Northern Arena Knockout
Allan Perkins, TSN.ca staff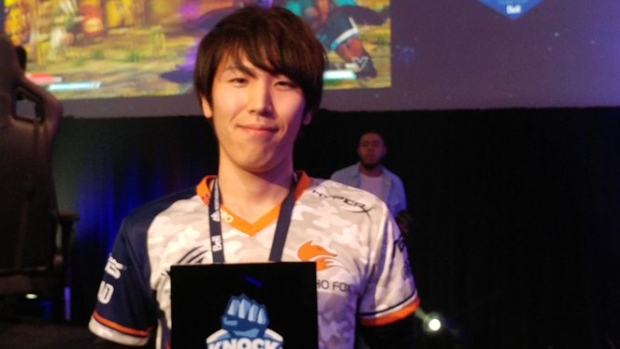 Japan's Yusuke Momochi of team Echo Fox breezed all the way to the finals of the Street Fighter V Northern Arena Knockout tournament playing as Ken, entering the last round as the only undefeated player in a double elimination field of 16.
And then it almost fell apart.
His opponent and roommate for the event, Atsushi 'Yukadon' Fujimura, using Ibuki, had to win two consecutive matchups to capture the championship. In the first leg of the finals, his countryman blew away Momochi 3-0 and all the momentum appeared to be in his favour.
But Momochi hit his stride in a big way. He dominated the final set with a 3-1 victory to take home the Knockout championship after a series of impressive counters and combos.
He said it was his mindset that made the difference in the final matchup.
"When I was down 0-2, I already decided that I was going to lose this round. I reset my mind and started preparing for the second half of the finals," Momochi said through an interpreter. "I think that was the key to win the next matchup."
It was a fast-paced final between two characters known for their mobility. With Momochi already out to an early lead, he pulled off a devastating double dash into a throw to set up championship point. After a couple of kicks to bring Fujimura's health into the red, Momochi secured the knockout with a devastating jump-kick.
Showing little emotion, he removed his headset and shook Fujimura's hand as if he expected nothing less.
With the win, Momochi takes home $12,000 USD in prize money with $7,500 going to the second-place Fujimara. Third place went to Arman "Phenom" Hanjani of Norway, receiving $4,000.
The field also included four Canadians who all won their first round matchups to get into the winner's bracket. But things changed quickly.
They went a combined 0-8 over the next couple rounds to all finish outside the winner's circle.
"It was like a train wreck," said Toronto's Adrian Sin after his second-round loss to Florida's Du 'Nuckledu' Dang.
But not all the Canadian competitors were disappointed with Thursday's results.
"For me, I think it's a success," said Andrae 'Drae Yomi Games' Brown from Montreal, who used Laura for most of the night.
Brown drew a tough first-round matchup with Dang, who was coming into Knockout undefeated on Canadian soil. After splitting the first two sets, Brown took down Dang for the first time in his career.
"The more you play someone, the more you know what they're going to do next. So, it finally happened that I knew what his next move was. I was one step ahead this time" Brown said.
Brown lost steam later in the night, but said he was still happy with the way things went.
In fact, Brown passed on a tournament in California that he thought he had a good chance at winning to come to Knockout and face better competition.
"That's how you get better. That's what this is all about," Brown said.
The event, sponsored by Bell, was held at the Bell Media Studios in Scarborough, Ont. The top eight players were awarded a share of the $30,000 prize pool.