Jets get QB Fitzpatrick from Texans
The New York Jets have acquired veteran quarterback Ryan Fitzpatrick from the Houston Texans for a conditional late-round draft pick. Fitzpatrick is familiar with new Jets offensive co-ordinator Chan Gailey's system from their three seasons together with the Buffalo Bills.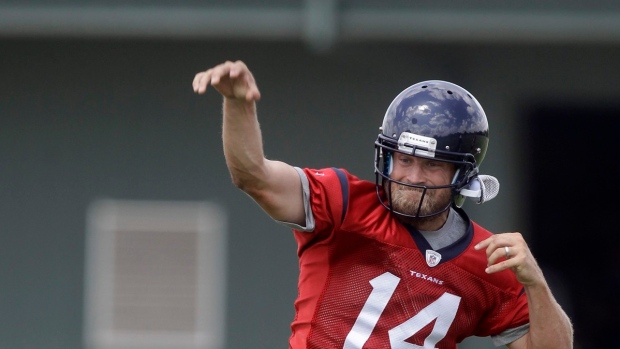 NEW YORK, N.Y. - Ryan Fitzpatrick is reuniting with Chan Gailey and giving the New York Jets some competition for Geno Smith.
The Jets acquired the veteran quarterback from the Houston Texans on Wednesday for a conditional late-round draft pick.
Fitzpatrick is familiar with the offence run by Gailey, the Jets' new offensive co-ordinator, from their three seasons together with the Buffalo Bills. The 32-year-old quarterback is expected to compete with Smith, entering his third season, to be New York's starting quarterback.
Michael Vick was Smith's backup last year, but started just three games as the Jets tried to give the young quarterback every opportunity to improve. Vick is a free agent and is not expected back, so Gailey and new head coach Todd Bowles needed another quarterback with NFL experience. The Jets could also look at bringing in another quarterback — perhaps Florida State's Jameis Winston, Oregon's Marcus Mariota or UCLA's Brett Hundley, perhaps — in the NFL draft.
Fitzpatrick started 12 games last season for the Texans, throwing for 2,483 yards and 17 touchdowns along with eight interceptions. He became expendable when the Texans signed free agent Brian Hoyer and re-signed Ryan Mallett.
Fitzpatrick was a seventh-round draft pick by St. Louis out of Harvard in 2005. He has also spent time with Cincinnati and Tennessee, but his best seasons came when Gailey was coach of the Bills — throwing for at least 3,000 yards and 23 TDs in each of those three years.
A year after signing with Buffalo in 2009, Fitzpatrick took over for Trent Edwards as the Bills' starting quarterback in Week 3 of that season and threw for 23 touchdowns. He had a career-best 3,832 yards the following season, along with 24 TDs and 23 INTs. Fitzpatrick followed that up by throwing for 3,400 yards, 24 TDs and 16 INTs in 2012.
He signed with Tennessee as a free agent in 2013 and had 14 touchdown passes while starting 11 games in place of the injured Jake Locker.
___
AP NFL website: www.pro32.ap.org and www.twitter.com/AP_NFL