Jets' Smith undergoes jaw surgery
New York Jets quarterback Geno Smith has had surgery on his broken jaw, two days after being punched by former teammate Ikemefuna Enemkpali. The Jets announced that Smith, whom coach Todd Bowles said was expected to be sidelined 6-10 weeks, underwent the procedure Thursday.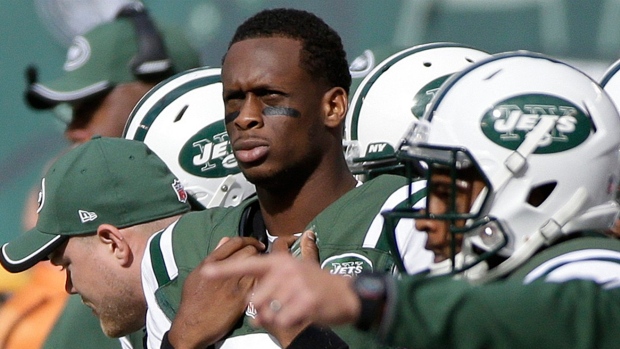 NEW YORK, N.Y. - Geno Smith's broken jaw is on the mend.
The New York Jets quarterback had plates and screws inserted Thursday into his jaw, which was broken when he was punched by former teammate Ikemefuna Enemkpali in the locker room Tuesday.
Smith, whose jaw will not be wired shut, will remain in a New Jersey-area hospital overnight after electing for the surgery after getting a second medical opinion on the injury.
Coach Todd Bowles initially said Smith was expected to be sidelined 6-10 weeks, and that timetable was expected to remain in place.
Meanwhile, the Jets were in Detroit for their preseason opener against the Lions. Ryan Fitzpatrick started at quarterback in Smith's place, and is expected to be the Week 1 starter.
Enemkpali was released shortly after the incident Tuesday and claimed off waivers by Buffalo, now coached by Rex Ryan, who drafted him last year in the sixth round with the Jets.
The linebacker apologized for the incident Thursday while speaking for 45 seconds at Bills camp.
"It should've never happened. I should've walked away from the situation," Enemkpali said. "It was never my intention to hurt anybody."
Enemkpali could be disciplined by the NFL for violating the league's personal conduct policy. He could also face legal charges if Smith pursues them.
___
AP Sports Writer John Wawrow contributed from Pittsford, N.Y.
___
AP NFL websites: http://www.pro32.ap.org and http://www.twitter.com/AP_NFL