Jimenez shoots 61, ties Montgomerie for lead
Miguel Angel Jimenez eagled the par-5 18th hole Saturday to match the course record of 9-under 61 and tie Colin Montgomerie for the second-round lead in the Shaw Charity Classic.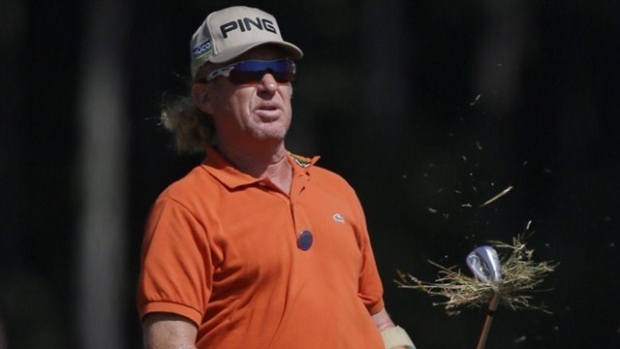 CALGARY - Miguel Angel Jimenez put himself in great position to win the Shaw Charity Classic by equalling the course record at Canyon Meadows Golf and Country Club on Saturday.
Jimenez eagled the par 5, 18th hole to card a 9-under 61, which is the same score Fred Couples shot in the final round last year before beating Billy Andrade in a one-hole playoff to win the tournament.
"It's going to be a very tight finish tomorrow, that's for sure," said Jimenez, who's tied with Colin Montgomerie for top spot in the 81-man field at 12 under.
"Anyone can win."
Although Jimenez is shooting to win for the second time on the Champions Tour this season, the 51-year-old Spaniard wouldn't be surprised to see Couples make a charge from behind like he did last year at Canyon Meadows.
"Well, he's a great player, you know it," said Jimenez. "He can shoot very low here. He played very well today after he started with a double bogey on the first hole and finished with a 5-under par."
After shooting 62 in Friday's first round, Montgomerie carded a round of 4-under 66 on Saturday.
"Obviously Miguel had a great day as I did yesterday," said Montgomerie, who will play in the final group with Jimenez and Jeff Maggert during Sunday's third and final round on the 7,086-yard, par 70 course.
"It's set up for a very exciting finish."
Although Montgomerie birdied the final hole, he was disappointed with the way he finished his round.
"I missed three putts in a row there at 16, 17 and 18," said the 52-year-old Scotsman. "I three putted the 16th for a bogey and I missed a very makeable putt at 17 for a birdie and I missed a very makeable eagle putt at the last."
The last eight events on the Champions Tour have been won by either the leader or co-leader heading into the final round.
Maggert could have matched the course record with an eagle on the final hole, but he settled for par to shoot 63 to finish alone in third at 10 under through two rounds.
Playing in a group with Jimenez and Couples, Maggert said he benefited from the high level of competition.
"Sometimes when the guys in your group are making a lot of birdies, we all kind of feed off each other," Maggert said. "I made birdies early. Then Miguel made three or four birdies out of five holes, so we just kind of kept each other going."
Couples and Woody Austin finished Saturday's second round tied at 8 under, just four shots off the lead. That's the same deficit Couples faced last year before he rallied from behind to win in thrilling fashion.
"I'm in the same spot I was last year," said Couples, who will play in the second last group on Sunday with Austin and Tom Byrum. "I've just got to go out and freewheel it and try and shoot a good score. Last year was a crazy score like Miguel's today.
"Am I out of it? No, but I don't think Miguel's going to struggle at all."
Calgary's Stephen Ames shot a respectable 2-under 68 on Saturday and is the top Canadian heading into the final round. Ames is tied for sixth spot at 7 under with Byrum, Mark O'Meara and Michael Allen.
"I didn't particularly drive the ball very well so it was kind of an up-and-down day, scrambling around, but I scrambled around 2 under, which is good enough I guess," said Ames, who would like nothing more than to equal Jimenez's round of 61. "That can happen and that will put me right back there. It would probably win it, to be honest."
Rod Spittle of Niagara Falls, Ont., shot 67 and is in a tie for 27th spot at 3 under heading into the final round.
After shooting 73 on Friday, Victoria's Rick Gibson carded a 69 to improve to 2 over. Fellow Victoria resident Jim Rutledge shot 72 and is at 7 over.
Meanwhile, Calgary's Darryl James followed up a round of 73 with a 76 on Saturday to sit tied for last spot with Jim Gallagher Jr. at 9 over.