Jockey Gallardo guides Avoman to victory in $150,000 Plate Trial event at Woodbine
Antonio Gallardo guided Avoman to a three-quarter length victory Sunday in the $150,000 Plate Trial at Woodbine Racetrack.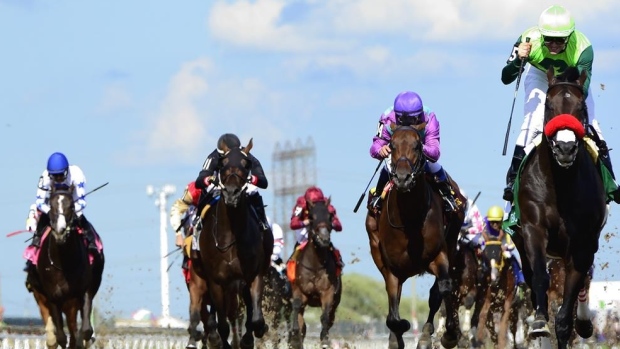 TORONTO — Munnyfor Ro has given trainer Kevin Attard and her handlers something to think about.
Munnyfor Ro, with Justin Stein aboard, captured the $500,000 Woodbine Oaks on Sunday in 1:50.31 over 1 1/8 miles on Woodbine's Tapeta track. She certainly served notice for the $1-million Queen's Plate, especially considering that earlier Avoman won the $150,000 Plate Trial in 1:52.84 over the same distance and course.
The Queen's Plate, opening jewel of the OLG Canadian Triple Crown, is slated to be run over 1 1/4 miles on Woodbine's Tapeta course Aug. 22.
"A mile and a quarter is going to be her trip, I'm not worried about the distance," Attard said. "We'll see how she comes out of the race and then we're going to have to sit down and talk and see if supplementing her is the next move."
Emmeline, ridden by Emma-Jayne Wilson, was second, 1 1/4-lengths back, in the 10-horse field with Patrick Husbands guiding Il Malocchio to third.
The Oaks was a first for Attard. Stein also won the race in 2015 aboard Academic.
Since '08, at least one Oaks starter has run in the Plate, with four having gone on to win (Inglorious in 2011, Lexie Lou in 2014, Holy Helena in 2017 and Wonder Gadot in 2018). Inglorious, Lexie Lou and Holy Helena did the Oaks-Plate double while Wonder Gadot won the Plate after finishing second in the Oaks to Dixie Moon.
"These are the races you want to win growing up as a kid here in Ontario," Attard said. "With Woodbine my home, the Oaks, the Plate are obviously those pinnacle races for those three-year-olds.
"I'm just really happy and satisfied to get it done."
The win was the second in seven starts this year for Munnyfor Ro, who's now 2-2-2 from nine career races. The 3-1 third choice was coming off a second-place finish in the Grade 3 Selene Stakes at Woodbine on July 10.
Stein said he and Munnyfor Ro had a superb trip in the opening leg of the Triple Tiara for Canadian-bred three-year-old fillies.
"I was told the key with her is to have her settled," he said. "The pace . . . it looked like there was probably some possibility of them stopping, which we didn't want to be in behind them.
"I put her in a spot that we could tip out in the turn when it came time to ask her to run from the quarter pole home . . . it worked out perfect."
Ditto for owner Rajendra Maharajh.
"Today is my mom's 80th birthday, everybody is here with us," Maharajh said. "So it's a family day and a lovely day."
Earlier, jockey Antonio Gallardo's first career race aboard Avoman was a victorious one.
Gallardo guided Avoman to a three-quarter length victory in the Plate Trial. Avoman went off as the 3/2 co-favourite with H C Holiday.
"I love to watch replays, I love to know my horses," Gallardo said. "I could see I have long-stride horse, he has a big kick at the end.
"In the beginning, I let him be strong. After that, I told him 'Hey, you're not going nowhere' and he relaxed. I had to move a little bit early because there was no pace ... I wanted to make sure the horse in front worked a little bit."
Gallardo had Avoman behind Truffle King around the final turn but surged into the lead en route to leading the horse to its first win in two races this year. Overall, the three-year-old gelding has two wins and two third-place efforts in five career starts.
Truffle King, ridden by Stein, finished second in the four-horse field but was relegated to last following a steward's inquiry for an incident involving fourth-place finisher Derzkii.
The disqualification moved H C Holiday into second and Derzkii into third.
The Plate Trial is a prep event for the $1-million Queen's Plate, which is slated to be run Aug. 22 at Woodbine. And winning trainer Don MacRea, who co-owns the horse with La Huerta Inc., said the plan is for Avoman to run in North America's longest continuously run stakes event.
"That's what we're in it for, that's what we dream of," he said. "To walk into the infield and have these big days, and maybe dream of the Plate.
"This is probably one of the greatest feelings in the world, except for my wife and baby. We had high hopes for this horse from the start. This is a dream come true for all of us, and it's exciting because it does lead us to the big dance."
Avoman, an Ontario-bred, finished third in his debut last September at Woodbine. He came into Sunday's race off a third-place effort July 3 at the Toronto oval.
This report by The Canadian Press was first published Aug. 1, 2021.