John Herdman developing a "no-excuses" environment for CONCACAF road games
Canada's men's soccer team is embracing adversity.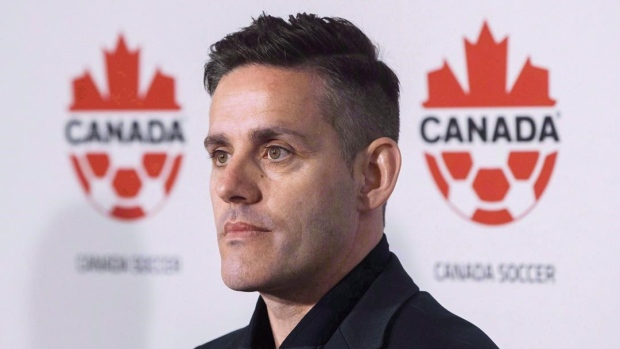 TORONTO — Canada's men's soccer team is done with excuses.
So when John Herdman's players venture into the unfriendly confines of Warner Park Football Field — the St. Kitts and Nevis stadium in which Canada has never scored a goal in official competition — they'll embrace the adversity.
They know they'll face tough conditions in more important games down the road.
"We're going to expect bumpy pitches. We're going to expect a bit of poor refereeing to some degree. We can expect the crowd being hostile. We can expect the busses being made late. We can expect all sorts of things," Herdman said Thursday. "The key is we're crafting a no-excuses and extreme ownership environment for this particular camp, which will lay a foundation for our future."
Veteran Atiba Hutchinson and teen star Alphonso Davies headlined Herdman's roster released Thursday for the Nov. 18 CONCACAF Nations League qualifying game versus St. Kitts, in the country's capital city Basseterre.
Canada is 2-0 and in third out of 34 countries in Nations League qualifying after an 8-0 win versus the U.S. Virgin Islands and 5-0 win over Dominica. St. Kitts is also 2-0. The Canadians have a chance to go 4-0-0 for 2018 with a victory next week, which would be a first in the history of the men's program.
With plenty to play for, Herdman is taking a no-stone-unturned approach.
Canada has dropped a few infamous losses on the road. The bleary-eyed Canadians lost 2-0 in World Cup qualifying in 2012 in Panama the morning after fans blared car stereos and set off fireworks in front of their team hotel. Then their World Cup dreams were officially snuffed out in a humiliating 8-1 loss to Honduras in San Pedro Sula, in a wildly raucous stadium that looked like something out of "Prison Break."
The team had a "good two-hour video conference" to address the possibilities in St. Kitts. Canadian staff is preparing the broken lights at their designated practice facility, and they're bringing in proper goals. And Hutchinson and fellow veteran David Edgar will address the players, particularly the younger ones, about what to expect.
"What we're looking at is cultivating an 'embrace everything and be ready for everything' mindset, and really for the team now to use this and the test in St. Kitts as that experience of building resilience for when we have to play even harder matches against tougher teams in similar conditions," Herdman said.
At stake are spots in the CONCACAF Gold Cup and 2019-20 CONCACAF Nations League Group A.
A berth in Group A, Herdman said, means playing top competition — Honduras, Panama, the United States, Costa Rica, Mexico — on a regular basis.
"The reason that's important is to keep testing ourselves, going to their countries, preparing you for the 'Hex' (CONCACAF's final round of World Cup qualifying), accumulation of rankings points," Herdman said. "So to qualify for the World Cup in 2022 by March 2020, we have to be in the top six of the CONCACAF rankings, we're not in the top six, we don't qualify for the 'Hex.'
"It's a process. It's an important period of Canadian football, and if we drop the ball here, it could cost us later down the road."
Herdman is grateful for the veteran leadership of Hutchinson, and had kind words for the 35-year-old midfielder — who's fifth all-time in appearances for Canada (79) — on Thursday's conference call.
"He's a class guy. He's got an infectious presence where there's a bit of humility there, there's a positivity, and I think the young boys can really see what a Canadian men's player looks like, what we're striving to be," Herdman said. "When he came into the camp, everyone felt his presence. We've got some big characters, big personalities in the environment, but he just brings this quiet calm unassuming confidence with humility, with a bit of character as well, with a bit of positivity, prepared to get his hands dirty and go and connect in with young players, and lift the group when he needs to."
Herdman said he plans to "keep hold of Atiba for as long as his body allows him to (play). He's going to be that important to this group."
Through Canada's first two qualifying matches, Cyle Larin and Lucas Cavallini lead scoring with three goals apiece. Junior Hoilett has two goals and two assists.
———
Canada's Roster:
Goalkeepers: Milan Borjan, Red Star Belgrade (Serbia); Maxime Crepeau, Ottawa Fury FC; Simon Thomas, Kongsvinger IL (Norway).
Defenders: Zachary Brault-Guillard, Olympique Lyonnaise (France); Manjrekar James, FC Fredericia (France); Derek Cornelius, FK Javor Ivanjica (Serbia); David Edgar, Ottawa Fury FC; Samuel Adekugbe, Valerenga Fotball (Norway); Doneil Henry, Vancouver Whitecaps; Marcus Dodinho, Heart of Midlothian FC (Scotland).
Midfielders: Alphonso Davies, Vancouver Whitecaps; Samuel Piette, Montreal Impact; Russell Teibert, Vancouver Whitecaps; David Wotherspoon, St. Johnstone FC (Scotland); David Junior Hoilett, Cardiff City FC (Wales); Atiba Hutchinson, Besiktas JK, Turkey; Liam Millar, Liverpool FC U-23 (England); Liam Fraser, Toronto FC; Jay Chapman, Toronto FC; Ballou Jean-Yves Tabla, FC Barcelona B (Spain).
Forwards: Cyle Larin, Besiktas JK (Turkey); Lucas Cavallini, Puebla FC (Mexico); Jonathan David, KAA Gent (Belgium).