Jones noncommittal on Riders' starting QB
TSN.ca with files from The Canadian Press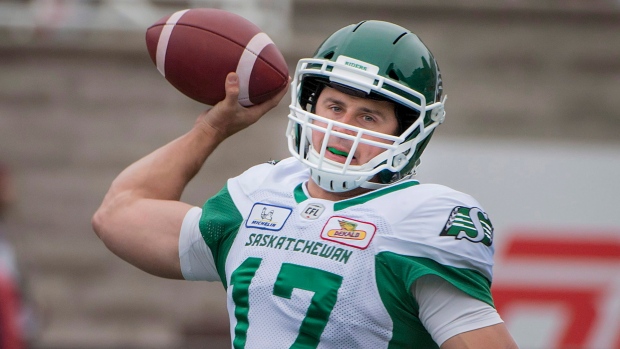 Brandon Bridge took a significant portion of snaps for the Saskatchewan Roughriders in practice Friday, leading to questions about whether starter Zach Collaros will be healthy enough start Sunday's Western semi-final.
Roughriders head coach Chris Jones was noncommittal on his starter for Sunday after the practice, saying only that the team was preparing everyone for the contest.
Collaros has not played since leaving Saskatchewan's Oct. 27 regular-season finale against the B.C. Lions following a late first quarter hit from Odell Willis. He finished the drive after taking the hit but was later diagnosed with a concussion.
Jones called his starting quarterback day-to-day earlier this week.
"It's pretty much in the trainers' hands to make sure we're not going to ever put a guy out there and put him at risk," Jones said Wednesday. "If he passes all that stuff and he's able to show us that he's able to compete and compete at a high level then he'll play."
Collaros has thrown for 2,999 yards, nine touchdowns and 13 interceptions in 14 games this year. Bridge, a Toronto native, appeared in eight games for the Riders and threw for 804 yards, one touchdown and three interceptions.
The Riders enter the West semifinal with a 2-1 record this season against Winnipeg, although the Bombers have won 5 of 6. Saskatchewan and the Blue Bombers finished second and third, respectively, in the West Division.
The Riders last played a playoff game in 2013 when they hosted and won the Grey Cup.