Kansas State upsets No. 10 Oklahoma State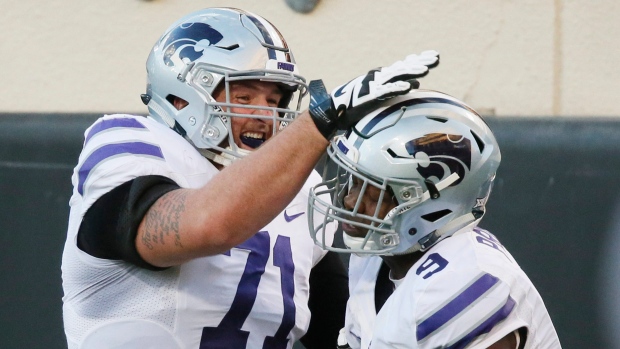 STILLWATER, Okla. -- Byron Pringle caught three touchdown passes and returned a kickoff for another score to help Kansas State stun No. 10 Oklahoma State 45-40 on Saturday.
Oklahoma State nearly erased a 29-point deficit in the second half, but Kansas State (6-5, 4-4 Big 12) held on to become bowl eligible for the eighth consecutive season.
Pringle caught four passes for a career-high 166 yards. His kickoff return touchdown covered 89 yards. The junior entered the game with eight career touchdowns, and he had never scored more than two in a game.
Freshman Skylar Thompson threw for 204 yards and three touchdowns and ran for 93 yards and a score in his second start for the injured Jesse Ertz.
Kansas State entered the game as a nearly three-touchdown underdog, something coach Bill Snyder discussed with his team.
"I can understand why that number was out there," he said. "We all knew it wasn't an accurate number, but I told them you're going to have to go out there and prove it, and we proved it tonight."
Oklahoma State's Mason Rudolph passed for 425 yards and three touchdowns and ran for another score. James Washington caught eight passes for 159 yards and two touchdowns for the Cowboys (8-3, 5-3, No. 13 CFP).
Kansas State led 28-13 at halftime. The Wildcats ran for 132 yards in the first half and intercepted two of Rudolph's passes. Pringle got loose for a 46-yard touchdown grab to put the Wildcats up 35-13 in the third quarter, then caught a 60-yarder a few minutes later to make it 42-13 before Rudolph got it going. Rudolph threw a 14-yard touchdown pass to Dillon Stoner to cut Kansas State's lead to 45-40 with 4:02 to go. The Wildcats went three-and-out to give Oklahoma State a chance to take the lead, but Rudolph missed four straight passes, then Kansas State ran out the clock.
It was Oklahoma State's third home loss, and it crushed the Cowboys' already slim chances of reaching the College Football Playoff.
"We all need to look at ourselves and figure out what's going on because for whatever reason, we're not showing up," coach Mike Gundy said.
THE TAKEAWAY
Kansas State: The Wildcats finally caught a break in a close game. They had lost by 7 points to Vanderbilt, 6 points to Texas, 7 points to Oklahoma and 5 points to West Virginia this season.
"The defence had a role in it, the offence had a role, special teams had a role," Snyder said. "We can be a decent team when all three aspects are involved."
Oklahoma State: The Cowboys couldn't get their offence going until late. Rudolph was off, and his receivers had some costly drops early.
"The overall concept of what happened today, to me was disappointing," Gundy said.
UP NEXT
Kansas State: Hosts Iowa State on Saturday.
Oklahoma State: Hosts Kansas on Saturday.