Koreas to form their first joint Olympic team
South Korea says the rival Koreas have agreed to form their first joint Olympic team and have their athletes march together during the opening ceremony of next month's Winter Olympics in the South.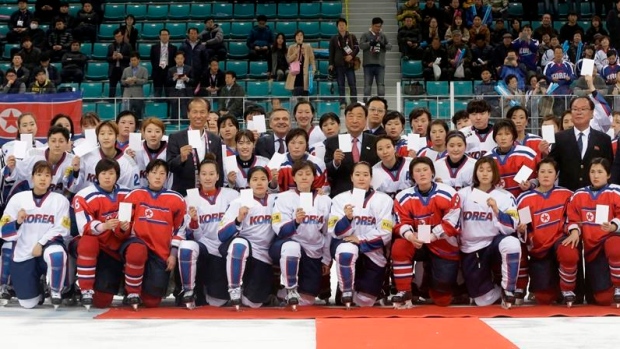 SEOUL, Korea, Republic Of — The rival Koreas agreed Wednesday to form their first unified Olympic team and have their athletes parade together for the first time in 11 years during the opening ceremony of next month's Winter Olympics in South Korea, officials said.
The agreements still require approval from the International Olympic Committee. But they are the most prominent steps toward rapprochement achieved by the Koreas since they recently began exploring co-operation during the Olympics following a year of heightened tension over the North's nuclear weapons program.
During their third day of talks at the border in about a week, senior officials reached a package of agreements, including fielding a joint women's ice hockey team and marching together under a blue and white "unification flag" depicting their peninsula in the opening ceremony, Seoul's Unification Ministry said.
A joint statement distributed by the ministry said the North Korean Olympic delegation will travel to South Korea across their heavily fortified land border before the Feb. 9-25 Pyeongchang Games. It said the delegation will include a 230-member cheering group, a 30-member taekwondo demonstration team, journalists, athletes and officials.
Ahead of the Olympics, the Koreas will hold a joint cultural event at the North's scenic Diamond Mountain and have non-Olympic skiers train together at the North's Masik ski resort, according to the statement. It said the North also plans to send a 150-strong delegation to the Paralympics in March. The North earlier said it would send a 140-member art troupe.
The agreements are highly symbolic and emotional. But it's still not clear how many North Korean athletes will come to Pyeongchang because none are currently qualified. South Korean media have predicted only up to 10 North Korean athletes will end up being covered by an additional quota from the IOC.
A pair of North Korean figure skaters qualified for this year's Olympics, but the country missed a deadline to confirm their participation. The IOC said recently it has "kept the door open" for North Korea to take part in the games. IOC officials are to meet with sports and government officials from the two Koreas and officials from the Pyeongchang organizing committee in Switzerland on Saturday.
The IOC said in statement Wednesday that it has "taken note of a number of interesting proposals from different sources."
"There are many considerations with regard to the impact of these proposals on the other participating NOCs (national Olympic committees) and athletes. After having taken all this into consideration, the IOC will take its final decisions on Saturday in Lausanne," it said.
The two Koreas have sent joint teams to major international sports events twice previously, both in 1991. One event was the world table tennis championships in Chiba, Japan, where the women's team won the championship by beating the powerful Chinese, and the other was soccer's World Youth Championship in Portugal, where the Korean team reached the quarterfinals.
During an era of detente in the 2000s, their athletes marched together in the opening and closing ceremonies of nine international sporting events, including the 2000 Sydney Olympics, but they failed to produce a joint team. Their last joint march was at the Asian Winter Games in Changchun, China, in 2007.
The current reconciliation mood began after North Korean leader Kim Jong Un said in a New Year's speech that he was willing to send a delegation to the games. Critics have said Kim's overture is an attempt to use improved ties with South Korea to weaken U.S.-led international sanctions on North Korea while buying time to perfect his nuclear weapons program.
The moves nevertheless have provided a temporary thaw in the Koreas' long-strained ties and fostered optimism that North Korea won't launch any new provocations, at least during the Olympics. Last year, North Korea carried out its sixth and biggest nuclear test explosion and test-fired three intercontinental ballistic missiles, and Kim and U.S. President Donald Trump traded threats of war and crude insults against each other.
The White House says the joint Olympic team is an opportunity for North Korea to see the value of ending its international isolation by getting rid of its nuclear weapons.
"We hope that this experience gives North Korea and its athletes a small taste of freedom, and that rubs off and it's something that spreads and impacts in these negotiations and in these conversations," spokeswoman Sarah Huckabee Sanders said.
Some conservative critics say North Korea's cheering and artistic groups are too big and worry the North may try to steal the show at the Olympics to launch what they call a "peace offensive" to try to show it's a normal country despite pursuing nuclear weapons.
North Korea also sent highly trained female cheering groups dressed in bright, attractive outfits when it attended previous international sports events in South Korea. The groups, chosen for their cheering skills as well as their good looks and dubbed "beauty squads" by South Korean media, often received more attention than their athletes. Kim Jong Un's wife, Ri Sol Ju, was a member of a 2005 squad.
North Korea under Kim has made sports, and especially success in international sporting events, a high priority. While it's not a major winter sports competitor, North Korean athletes have set several weightlifting world records and its women hold a high profile on the world football scene.
When travelling abroad, however, North Korean athletes and coaches tend to cloister themselves away from outsiders when they are not competing or practicing. Defections are likely a concern, along with what their minders might deem to be ideological "contamination," so they are kept under close scrutiny.
South Korea wants to the IOC to allow its ice hockey team's 23-player Olympic roster to be expanded so that several North Korean players can be added without removing any of the South Korean players. But there are worries in South Korea that adding new players less than a month before the Olympics will weaken the team and deprive South Korean players of playing time.
Chief South Korean delegate Chun Hae-sung said the government is well aware of such concerns and North Korea has agreed that the South Korean team's current coach will be given full authority to select North Korean players to compete.
"If South and North Korea form one team and compete in the games, that will be an everlasting historic event, which I think will move our people and people around the world," South Korean President Moon Jae-in said Wednesday.