Laine dominates as Finland beats Germany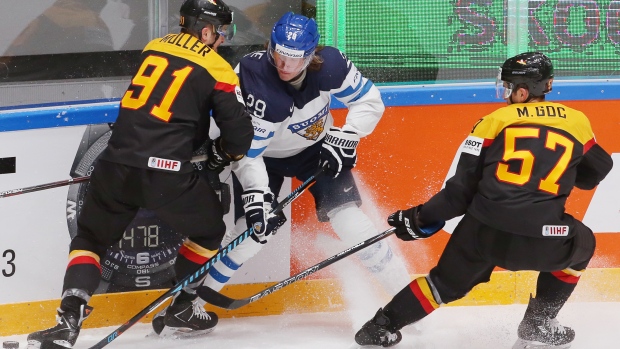 Patrik Laine is acting like he's been here before.
The 18 year old recorded his second straight two-goal, three-point game at the World Hockey Championship as Finland cruised to a 5-1 win over Germany.
Leo Komarov, Sebastian Aho and Jarno Kokirnata also scored for the Finns (2-0) while Brooks Macek responded for the Germans (0-1-1).
Quickly emerging as one of Finland's top weapons on the power play, Laine narrowly missed the back of the net with a slap shot from the left point on a cross-ice pass from Jussi Jokinen late in his club's first man advantage. The veteran Jokinen corralled the shot around the boards and opted for a middle man this time between he and Laine. Jokinen laid the puck up at the point for Juuso Hietanen, who slid a pass down to the top of the circle for Laine to one-timer passed goaltender Timo Pielmeier to open the scoring less than seven minutes into the game.
Nearly three minutes later on another Finland power play, Laine played facilitator for Jokinen. Laine hit Jokinen in the middle of the right circle and the Florida Panthers forwarded threaded a perfect pass through the crease to Leo Komarov, who made no mistake to push the lead to 2-0.
With the game well out of reach at 4-1, Laine collected a loose puck at the bottom of the left circle and ripped his second goal of the game into the top corner with three seconds left in the game.
Laine leads the tournament in goals (4) and points (6), surpassing Jaromir Jagr's modern era record for most points at the world championship by an 18 year old (5 in 1990).
Finland returns to action Monday against Team USA.