Manziel, Tiger-Cats far apart on contract
According to TSN's Farhan Lalji, the Hamilton Tiger-Cats offered Johnny Manziel a contract in the range of $150,000 with some minor incentives, but Manziel's camp is looking for something in the range of $500,000.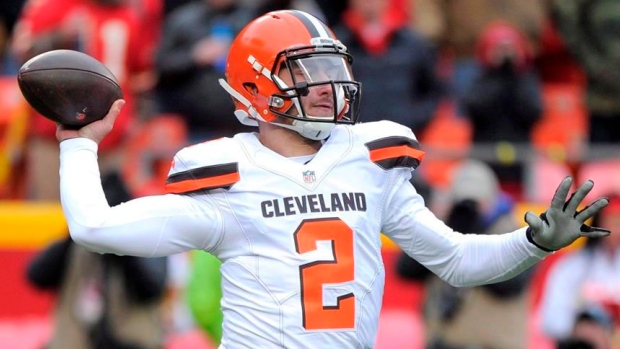 Johnny Manziel and the Hamilton Tiger-Cats are far apart as negotiations continue between the CFL club and the former NFL quarterback.
According to TSN's Farhan Lalji, Hamilton offered Manziel a contract in the range of $150,000 with some minor incentives earlier this month, but Manziel's camp was looking for an offer in the range of $500,000.
Manziel responded to this story, when posted to Twitter by TSN, with the response "Nahhh."
Lalji notes the gap between the two sides may have closed over the past few weeks, but Manziel is believed to be looking for starter's money.
The Ticats offered Manziel a two-year contract on Jan. 7 and the 25-year-old and his agent Eric Burkhardt countered by telling the team that they had until Jan. 31 to improve their offer.
Burkhardt called the CFL's negotiation rights rules "archaic and restrictive" in setting the deadline, adding that "we believe 'fair deal' means on par with what Hamilton has paid their QB in recent years, despite not having much on-field success."
Burkhardt sees Manziel worth at least the same amount of money as starter Jeremiah Masoli, who the Ticats signed on Jan. 4 for just under $250,000 with incentives worth as much as $90,000. Masoli will then make $325,000 in 2019 with the possibility to make as much as $375,000 with incentives.
Lalji adds that the Ticats are not feeling any pressure to strike a deal of this magnitude with Manziel, but the team continues to be optimistic that Johnny Football will be a member of the Tiger-Cats for the 2018 season. However, coming to terms on a contract might take right up until training camp.
The 22nd overall pick in the 2014 NFL Draft out of Texas A&M by the Cleveland Browns, Manziel has been out of football since the end of the 2015 season.
A native of Tyler, Texas, Manziel was the 2012 Heisman Trophy winner, but saw his pro career slowed by a myriad of personal issues and substance abuse problems.