Sweden downs Canada at Karjala Cup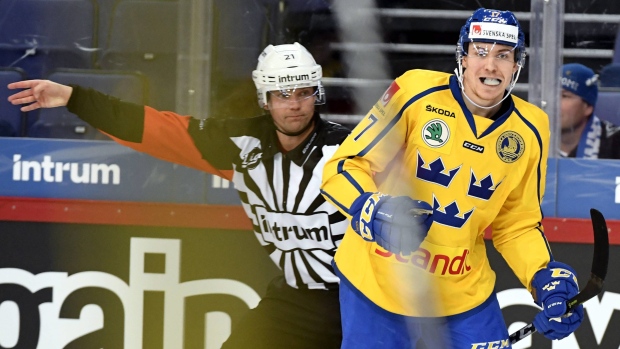 Par Lindholm scored twice as Sweden defeated Canada 2-0 at the Karjala Cup on Friday.
Lindholm scored both his markers on the power play for Sweden, who spent a total of 17 minutes with the man advantage.
Magnus Hellberg recorded the shutout for Sweden, turning aside 35 shots. Top draft prospect Rasmus Dahlin drew an assist on Lindholm's second-period goal.
Canadian forward Mason Raymond received a five-minute major and a game misconduct for charging in the second period after running into Hellberg behind the Swedish net. Raymond did not dress in Canada's first game - a 3-2 win over Switzerland on Wednesday.
Ben Scrivens made his second straight start in net, making 21 saves against Sweden.
The loss drops Canada to 1-1 at the tournament with one game remaining. Canada will play Finland in Helsinki on Sunday morning (10:30am et/7:30am pt. on TSN). Canada could choose to start Justin Peters for that game.
The Karjala Cup will be awarded to the team atop the standings once each of the six teams has played three games.