Lions acquire RB Rutley from Alouettes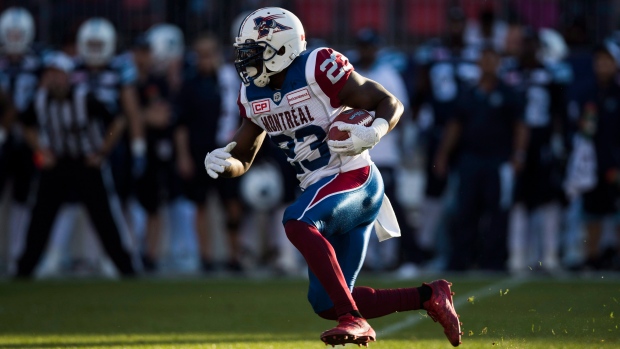 The B.C. Lions have acquired running back Brandon Rutley from the Montreal Alouettes in exchange for future considerations.
Rutley, 28, appeared in five games for the Alouettes last season, rushing for 291 yards on 49 carries.
"I think that the [B.C. Lions] are obviously going to put me in the best position you know, wherever I fit in best," Rutley told TSN.
Lions general manager Ed Hervey said he considers the trade a key move in the team's offseason.
"This is a critical part of the offseason as we work towards creating a high level of competition and depth at every position on the field," Hervey said in a release. "Acquiring Brandon today is a prime example of that focus and we look forward to seeing what he can bring to our team."
"There were more conversations over the past few weeks, you know, if there's an option for me to get on the West Coast and be apart of a great organization then to me it was a no-brainer," Rutley said.
"I just felt like at this point in my career it was time for a change."
Rutley, who made his CFL debut in 2012 with the Hamilton Tiger-Cats, enjoyed his most productive season in 2016, when he ran for 495 yards and added another 305 yards receiving.