Lions extend LBs Elimimian, Bighill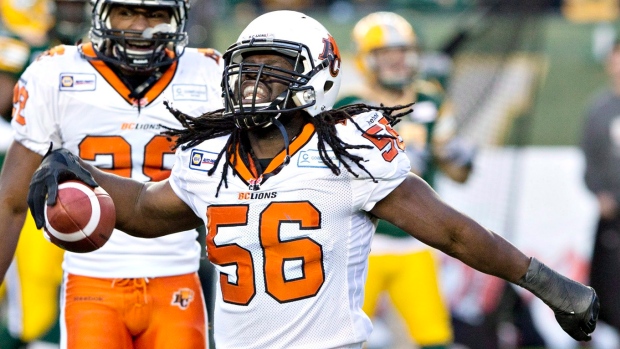 Just as the free agency period opened, the BC Lions announced contract extensions for star linebackers Solomon Elimimian and Adam Bighill.
With the new deals both Elimimian and Bighill are tied to the club through the 2017 season.
"When you can secure two of our league's best defensive players with long-term contracts, it's a very special day," VP of football operations and GM Wally Buono said in a team release. "Solomon and Adam are impact players who not only make our defence extremely difficult to play against, they also bring the kind of leadership needed to form the foundation of a championship team."
TSN's Farhan Lalji reports Elimimian's deal is for $700,000 over the three years.
There was some speculation the All-Star may become a free agent on Tuesday because he signed a one-year contract last season. However, he signed two one-year deals, the second of which the team could register with the league at any time.
Last season, the Hawaii product picked up 143 tackles, five quarterback sacks, and an interception on way to winning the Most Outstanding Player award. Elimimian, who has 403 tackles, 17 sacks, and six interceptions in his five years with the Lions, was also named Most Outstanding Defensive Player in 2014.
"I've never been more proud to be a Lion and I am very happy to be part of this organization moving forward. I want nothing more than to put on that orange jersey and help win championships for our fans," Elimimian said in the team release. "It's also very special to be doing this today with Adam. Playing alongside him is like playing beside your brother and it means the world to me that we are able to do this extension together."
The 26-year-old Bighill had 77 tackles, six sacks, and one interception last year.
"I'm thrilled to sign this extension and know that I am a Lion through 2017," Bighill said in the release. "Playing football in BC with the core group we have here means you have an opportunity to win a Grey Cup every season and that's our ultimate goal. Knowing I get to do that with Solomon makes it that much better."
The Lions also agreed to terms on a contract with free agent defensive back Chris Rwabukamba.