Liverpool will try to slow Man United juggernaut on TSN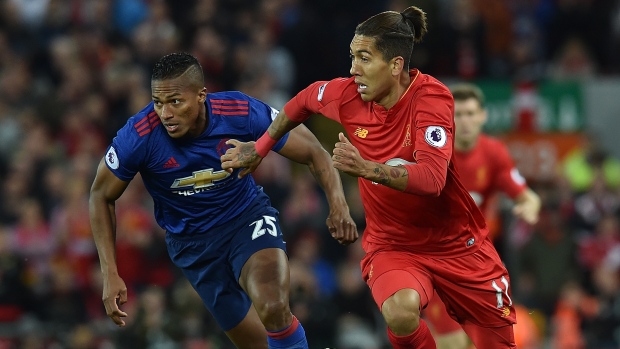 There is never a shortage of storylines when England's two most successful football clubs clash. This Saturday will be no different as Manchester United travels to Anfield to face Liverpool as the Premier League returns from the international break with a marquee matchup.
Catch the action from Merseyside, Saturday at 7:30 a.m. ET/4:30 a.m. PT on TSN1 and TSN4. Coverage gets underway with Premier League Live at 6:30 a.m. ET/3:30 a.m. PT.
Manchester United has come out of the gate as one of the hottest teams in the EPL this season, taking 19 of a possible 21 points in their first seven games. They are second in the table, tied on points with Manchester City for the most in the league and only behind their city rivals by a single marker in goal differential.
"We are in a better position in the table than last season," said United manager Jose Mourinho. "We are playing better and more confident because of our results."
One of the key reasons for those improved numbers is striker Romelu Lukaku, who joined United from Everton this season on a £75 million transfer. The big money has translated into big results as the Belgian international striker currently leads the league with seven goals.
Despite only playing in one of Belgium's games during the break, Mourinho confirms that Lukaku will be available against Liverpool. Marouane Fellaini, who was also playing for Belgium, suffered a knee injury and is expected to miss the trip to Liverpool.
Michael Carrick will also continue his run out of the team.
"Big atmospheres motivate us," Mourinho said about playing in front of a hostile Anfield crowd. "It's something we want. It's something that if we could have every match, we would have."
Liverpool manager Jürgen Klopp is hoping to use the home ground and those supporters to his advantage, as his team attempts to improve on an uneven start to the season.
"We want to use all the power we can get and create in this stadium," said Klopp
Liverpool currently sits seventh in table, even with Burnley but behind them on goal differential with 12 points from their opening seven games.
If they are going to stop the momentum Manchester United has built to open the season, they'll have to do it without one of the keys to their attack. Midfielder Sadio Mane, who was injured during the break while playing for Senegal, will miss the match.
The 25-year-old suffered a hamstring injury that could keep him on the sidelines for six weeks, though Klopp believes his team can overcome the absence of one of his key players.
"We can play without him, even if we would love to have him in the lineup," said Klopp. "That's how it is."
Two players the German manager expects to be able to count on in the key clash are Philippe Coutinho and Roberto Firmino, who both played for Brazil in their final World Cup qualifying game against Chile.
"Phil played two games, Roberto played around five minutes so that's different, but they both had a long flight," said Klopp. "They should be okay and they are important."
This is the 227th time these two clubs are meeting, with United holding an 87-75 advantage over Liverpool. Sixty-four times the sides have played to a draw.
Both meetings ended in draws last season, a 1-1 final at Old Trafford and a 0-0 clash at Anfield.