Mitchell, Brown among selections for Canadian Football HOF induction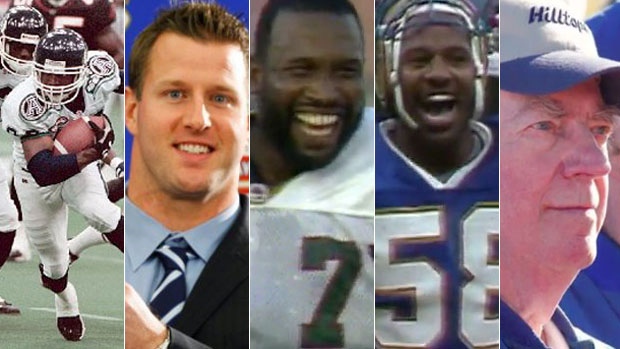 The Canadian Football Hall of Fame and Museum announced its newest class on Friday, with players Derrell 'Mookie' Mitchell, Doug Brown, James West and Rodney Harding and builder Don McDonald selected for induction.
The inductees were officially announced at a celebration event during the 103rd Grey Cup Festival in Winnipeg.
One of the most explosive receivers in CFL history, Derrell Mitchell played 11 seasons with the Toronto Argonauts and Edmonton Eskimos and is ninth on the all-time receiving list with 12,014 yards. He won CFL rookie of the year honours in 1997, catching 77 passes for 1,457 yards and 17 touchdowns while helping lead Toronto to the Grey Cup.
The following season, he made 160 catches for 2,000 yards - one of just three players to ever hit the 2,000-yard plateau. Mitchell also played three seasons with the Eskimos and won a Grey Cup with the club in 2005.
One of the greatest Canadians to ever play at defensive tackle, Doug Brown played his entire 11-year CFL career with the Winnipeg Blue Bombers. A seven-time CFL All-Star, Brown played 188 career games, finishing with 426 career tackles and 52 sacks. He was named the league's top Canadian in 2001 and played in three Grey Cups.
Playing 12 CFL seasons with the Argonauts, Memphis Mad Dogs and Calgary Stampeders, Rodney Harding was a force on the defensive line from 1985 to 1996. A two-time All-Canadian who won the Grey Cup with Toronto in 1991, Harding played 165 games over his CFL career with 105 sacks.
A two-time All-Star linebacker, James West played 12 CFL seasons with the Blue Bombers, Stampeders and B.C. Lions. West is fifth in Winnipeg's all-time list for tackles (400) and was inducted into the Blue Bombers' Hall of Fame in 1997.
West played in three Grey Cups with the Blue Bombers, winning the trophy in 1988 and 1990.
Inducted into the builder's category, Don McDonald has been a fabric of minor football in Saskatoon for four decades. He was commissioner of Junior Football in Canada for eight years and is also a lifetime member.
The current Director of the Saskatoon Hilltops Football Club, McDonald was inducted into the Saskatoon Sports Hall of Fame in 1993 and the Saskatchewan Sports Hall of Fame in 2009.