Mitchell leads Stampeders to win over Argos
Bo Levi Mitchell threw three TD strikes as the Calgary Stampeders clinched first in the West Division with a lopsided 48-20 win over the Toronto Argonauts on Monday afternoon.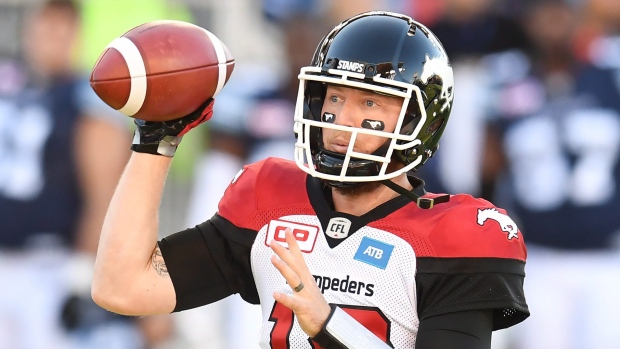 TORONTO — He says winning in the CFL is hard but Bo Levi Mitchell and the Calgary Stampeders are making it look easy.
Mitchell threw three TD strikes as Calgary clinched first in the West Division with a lopsided 48-20 win over the Toronto Argonauts on Monday afternoon. Mitchell boosted his league-leading total to 29 touchdown passes as the Stampeders (13-1-1) earned their 12th straight win and ran their CFL-record unbeaten streak to 14 games.
Mitchell also improved to 41-7-1 as a starter and 5-0 versus Toronto. Calgary took control early, with Jerome Messam capping an opening 73-yard, eight-play march with a one-yard TD run, then the ensuing two-point convert before Mitchell ended the quarter with a 41-yard scoring strike to Karam Jorden, then a two-point toss to DaVaris Daniels for a commanding 19-0 lead.
"I love to win, it's my favourite thing in the world," Mitchell said. "I know things are going well but winning in the CFL is hard and we take a lot of pride in what we do.
"We know what we have, we know we have something special. But we know it won't mean a damn thing without finishing the last one (winning Grey Cup)."
Calgary cemented home-field advantage for the West Division final Nov. 20. That's important considering the Stampeders are 7-0 this season at McMahon Stadium.
But with three regular-season games remaining, head coach Dave Dickenson faces a delicate balancing act. He must try to keep Calgary's competitive streak going while giving key players like Mitchell and Messam, who ran for 133 yards on 17 carries for a CFL-high 1,002 yards, time off to be fresh come the playoffs.
"Now the goal is really not about how many wins you have, it's can you play your best football in the playoffs and can you be healthy?" said Dickenson. "That's going to be a challenge for myself and I will do the best I can."
The six-foot-three, 254-pound Messam registered his second career 1,000-yard season before family and friends in his hometown. But the 31-year-old quickly put the accomplishment into perspective.
"It just feels good to get it early," said Messam, the CFL's top Canadian in 2011 with Edmonton when he recorded his first 1,000-yard season. "It's good to be able to do it at home in front of my family and on Thanksgiving.
"But our main focus is the Grey Cup. We're taking it one week at a time and we're just striving to be the best in history."
With Monday's win, Dickenson tied the CFL record for most wins by rookie head coach of 13 shared by Adam Rita (1991, Toronto), John Hufnagel (2008, Calgary), and Mike Benevides (2012, B.C.).
Mitchell was 18-of-27 passing for 281 yards before giving way to Drew Tate early in the fourth. Mitchell became just the second CFL quarterback to record 12 straight wins after Ken Ploen (1961, Winnipeg).
But the 14-game unbeaten streak broke the league mark Mitchell shared with former Edmonton great Warren Moon. Calgary also beat Toronto (5-10) for the fifth straight time and sixth in seven games before a subdued BMO Field gathering of 14,224 on a brilliant fall afternoon.
Calgary, which hasn't lost since a 20-18 decision to B.C. on June 25, also holds the CFL record for most consecutive wins at 22 set in 1948-49. With the Stampeders' victory, combined with Edmonton's 40-20 decision in Montreal earlier Monday, West teams have captured 12 straight over East squads.
With Toronto and Montreal losing, B.C. (9-5) and Winnipeg (9-6) both clinched playoff berths. Edmonton (8-7) is fourth in the West but tightened its grip on a potential crossover spot while eliminating Saskatchewan (4-10) from post-season contention.
Toronto suffered its eighth loss in nine games and dropped to 2-6 at BMO Field. The Argos are still in playoff contention, but just barely as they face hosting Saskatchewan on Saturday before heading to Calgary on Oct. 21.
"There's only one way to approach these things . . . go back to work and try to improve," said Toronto head coach Scott Milanovich said. "I think we all felt like we had a good plan coming in.
"We didn't execute it in all three phases and we got out-coached and that's why you see the score that you see."
Andrew Buckley, Daniels and Rob Cote had Calgary's other touchdowns. Rene Paredes booted four field goals and two converts.
Daniels had five catches for 126 yards while Jorden recorded eight receptions for 117 yards.
Kenny Shaw and Diontae Spencer had Toronto's touchdowns. Lirim Hajrullahu kicked two field goals and two converts.
Paredes' 28-yard field goal staked Calgary to a commanding 35-6 half-time lead. Things got testy with 2:23 left in the second quarter when an end-zone melee resulted in five penalties and the ejections of Toronto defensive back Devin Smith and Stampeders' receiver Marquay McDaniel.
Toronto defensive back Josh Mitchell, who punched two Calgary players during the incident, received two unnecessary roughness penalties but amazingly remained in the game.