Moscow pushes back against doping allegations
The accusations of Russian doping drew a a harsh reaction in Moscow on Tuesday as Russian officials sought to discredit the World Anti-Doping Agency report.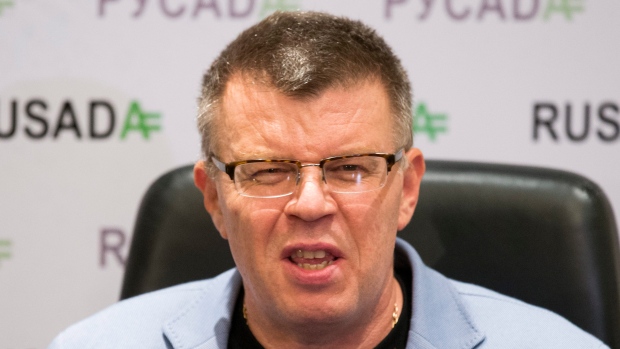 MOSCOW -- The day after the 2014 Sochi Olympics ended with Russia atop the medals table, a beaming President Vladimir Putin presented his athletes with state awards for "defending the honour" of their country by showing that its "great and glorious" sports traditions were still strong.
From its decades of dominance in the 1960s to the 1980s when the Soviet Union was known as the "Big Red Machine," international sports has held outsized importance for Russians as a way to measure their country's standing in the world.
That's why accusations of cheating -- widespread, state-sponsored doping -- drew such a harsh reaction Tuesday in Moscow. It would be a huge embarrassment for Russia if its track and field athletes were kept out of next summer's Olympics in Rio de Janeiro.
Russian officials have sought to discredit the report by a commission from the World Anti-Doping Agency, saying it failed to prove its main points and suggested the existence of an anti-Russian conspiracy.
"As long as there is no evidence, it is difficult to consider the accusations, which appear rather unfounded," said Putin spokesman Dmitry Peskov.
The acting head of the Russian athletics federation, Vadim Zelichenok, said the report's conclusions appeared to have been "made to order."
Putin has called a meeting Wednesday with the heads of Russia's sports federations to discuss preparations for the 2016 Olympics. Zelichenok told The Associated Press the doping allegations could be discussed.
Monday's report alleged Russia engaged in systematic doping and coverups affecting its track and field athletes, including Olympic medallists . It said that agents from the FSB intelligence service interfered with the work of a doping lab at the Sochi Games.
The WADA commission recommended that track and field's governing body, the IAAF, suspend the Russian federation from competition. IAAF President Sebastian Coe gave the federation until the end of the week to respond to the doping allegations.
The International Olympic Committee said it would be ready to strip medals from any Russian athletes found guilty of doping violations.
Russia also has been threatened with suspension from track and field competitions, including the Olympics in Rio de Janeiro. Zelichenok appealed to the IAAF to show "prudence" and allow Russians to compete.
Russian track and field head coach Yuri Borzakovsky, a former Olympic 800-meter champion, will be among those meeting with Putin.
In the first move to implement a recommendation from the report, WADA revoked the accreditation of Russia's anti-doping lab in Moscow. Hours later, lab director Grigory Rodchenkov resigned, according to the state news agency Tass.
Russia has been a track and field power for decades, but in recent years its main strengths have been in race walking, women's middle-distance running and the field events, including world-record holder Yelena Isinbayeva in the pole vault.
At the 2013 world track and field championships in Moscow, Russia won seven gold medals -- the most of any nation -- and 17 total. This year in Beijing, Russia won only two gold medals and four in all.
Until 1991, the Soviet Union enjoyed enormous international success, especially in sports such as hockey, figure skating and gymnastics. It had a huge pool of talent from its 15 republics and a wealthy training system that made its athletes walking advertisements for the purported superiority of Communism.
But in the economic chaos that followed the Soviet breakup, stadiums and other sports facilities deteriorated. Low salaries, further undermined by the 1998 collapse of the ruble, forced many athletes and coaches to compete abroad.
The post-Soviet athletic decline hit bottom at the 2010 Vancouver Olympics, where Russia left with only three gold medals and the daunting task of rebuilding its team in time for the Winter Games in Sochi four years later.
The Sochi Olympics, overseen by Putin as part of a broader effort to restore national pride, cost a record $51 billion and yielded huge success for Russia's athletes, who won 13 golds -- their highest Winter Games haul ever -- and 33 total medals.
In congratulating the medallists , Putin noted it was important for Russia to showcase not only its new modern sports facilities in Sochi but also its elite athletes, "those who are worthy of carrying the banner of its great and glorious traditions."
"You showed that these traditions are strong and our country as before produces brilliant, strong athletes, who are able to amaze and delight our citizens, filling them with pride in their fatherland," the president said.
Russia's re-emergence on the global sports stage has been further boosted by winning the right to hold the 2018 World Cup, although the scandal rocking soccer's world governing body FIFA has put that bid under renewed scrutiny.
It also has held a series of other major competitions in recent years, including the world athletics championships in 2013 and the world swimming and diving championships this summer.
Andrei Kolesnikov, a political analyst at the Carnegie Endowment's Moscow office, said Putin legitimizes his rule by playing up Soviet victories, not just in World War II but in the sports arenas as well.
"Maybe it was not the decision of Putin to use these medical means, but the very atmosphere in Russia, it leads to these solutions made by some sports officials. They are trying to be victorious, they must win everywhere in the fields of real war, the Cold War and in the sports fields -- and the sports fields are the fields of the Cold War," Kolesnikov said.
Kolesnikov predicted Putin would use the doping scandal to his advantage, both by standing up to what he would portray as a hostile West and by punishing someone at home to show that he was taking action.