Mourinho: Real 'prohibited' from selling CR7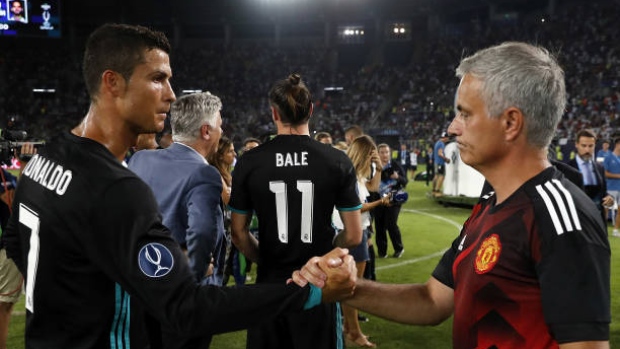 Cristiano Ronaldo is a Manchester United legend and the club would be interested in bringing him back, but Red Devils manager Jose Mourinho thinks that won't happen because Real Madrid aren't allowed to sell the Portuguese icon.
"I believe that Real Madrid cannot sell him, it is prohibited," Mourinho told Portuguese publication, Record. "He has to stay until the moment they authorise him to go and play one year in America or anywhere else that he wants to enjoy. It is a closed door."
Ronaldo, 32, played six seasons at Old Trafford from 2003 to 2009, winning the Premier League on three occasions, as well as an FA Cup and the 2008 Champions League title. He scored 118 goals in 292 appearances for United.
Mourinho coached Ronaldo for three seasons at Real from 2010 to 2013, but doesn't think he will be managing him again at Old Trafford.
"I don't think so," Mourinho said of a potential return, "but all the people know his history in Manchester, the passion they have for him and that there are players in the world who, if the clubs have the possibility of signing, will not say no."
Mourinho's United take on his former club, Chelsea, at Wembley on Saturday in the FA Cup Final. With a win, United can equal Arsenal's record of 13 FA Cup titles. The following Saturday, Ronaldo and Real battle Liverpool in Kiev in the Champions League Final.
Next month, Mourinho will serve as a pundit for RT's coverage of the World Cup.