Muamba "trying to make it happen" with Blue Bombers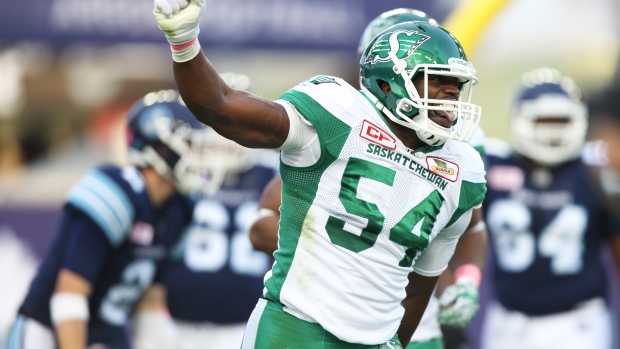 Weeks after Winnipeg Blue Bombers general manager Kyle Walters said he was trying to bring back Henoc Muamba, the 29-year-old national linebacker implied on Twitter he too was trying to get a deal done to return to the team he played for to start his CFL career.
Replying to a user that posted he was impatiently searching for news that Muamba is back with the Blue Bombers, the six-year CFL veteran replied he was trying to make it happen.
With both team and player seemingly wanting to get a deal done, it is unclear what, if anything, is holding up an announcement.
Muamba became a free agent on the first day of free agency when the Saskatchewan Roughriders released him after two seasons. The ratio-breaking defender finished last season with 82 tackles and two interceptions in 17 regular season games.
Drafted first overall by the Bombers in 2011, Muamba spent the first three years of his CFL career in Winnipeg before taking a shot down south with the NFL's Indianapolis Colts. Muamba spent a year with the Colts before returning to the CFL, signing with the Montreal Alouettes for the remainder of the 2015 season and then the Roughriders for the past three. He signed with the Dallas Cowboys between his stints in Montreal and Saskatchewan, but was cut by the club at the end of their training camp.
In 73 career regular season games in the CFL, Muamba has 267 tackles, six sacks, and four interceptions.