Gallimore still tops Scouting Bureau Top 20
Oklahoma Sooners defensive tackle Neville Gallimore kept his top ranking in the CFL Scouting Bureau with the winter rankings released Tuesday.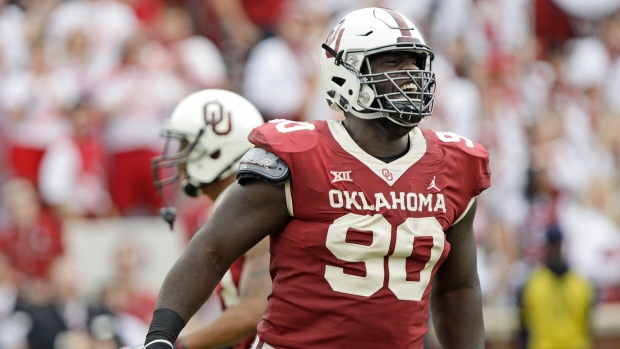 TORONTO — Oklahoma Sooners defensive lineman Neville Gallimore has retained his No. 1 spot in second instalment of the CFL Scouting Bureau's prospect rankings for the 2020 national draft.
Gallimore, form Ottawa, had 25 tackles (17 solo and eight assisted), three sacks and 6.5 tackles for a loss during the regular season for the Sooners.
Oklahoma finished with an 9-1 record, including a victory over Baylor in the Big 12 Conference Championship game where Gallimore registered two tackles and a sack.
The Sooners will face LSU in the Chick-fil-A Peach Bowl on Dec. 28, with the winner advancing to the College Football Playoff National Championship.
Notre Dame receiver Chase Claypool, Ohio quarterback Nathan Rourke, Alberta offensive lineman Carter O'Donnell and Buffalo offensive lineman Tomas Jack-Kurdyla rounded out the top five.
Claypool from Abbotsford, B.C., led the Fighting Irish in receptions (59), receiving yards (891) and touchdowns (12). Notre Dame will take on Iowa State in the Camping World Bowl on Dec. 28.
Rourke finished the regular season with a career-high 2,676 passing yards on a 61.4 per cent completion rate, while amassing 32 touchdowns (20 passing and 12 rushing). The performance earned the Oakville, Ont., native an All-MAC first team selection. Rourke will play his final collegiate game against Nevada in the Famous Idaho Potato Bowl on Jan. 3.
O'Donnell anchored an offensive line that averaged 399 yards of total offence and 5.2 yards per rush this season. The 6-6, 300-pound native of Red Deer, Alta., was named a U Sports first team all-Canadian for his efforts.
Jack-Kurdyla appeared in 11 games this season on an offence which averaged over 250 rushing yards and 5.0 yards per carry, while only allowing eight sacks. The 6-4, 300-pound Montreal native appeared in 47 games over a four-year collegiate career which will conclude in the Makers Wanted Bahamas Bowl against Charlotte on Dec. 20.
The draft is on April 30.
Three prospects from the fall edition rankings — No. 4 Sage Doxtater, No. 5 Patrice Rene and No. 10 Daniel Joseph — were moved to the 2021 draft class due to changes in their NCAA eligibility.
Below are the CFL Scouting Bureau's winter rankings:
CFL Scouting Bureau - Winter Rankings
| Rank | Name | Position | School | Hometown |
| --- | --- | --- | --- | --- |
| 1 (1) | Neville Gallimore | DT | Oklahoma | Ottawa |
| 2 (2) | Chase Claypool | REC | Notre Dame | Abbotsford, B.C. |
| 3 (3) | Nathan Rourke | QB | Ohio | Oakville, Ont. |
| 4 (11) | Carter O'Donnell | OL | Alberta | Red Deer, Alta. |
| 5 (13) | Tomas Jack-Kurdyla | OL | Buffalo | Montreal |
| 6 (7) | Ketel Asse | OL | Laval | Saint-Marc, Haiti |
| 7 (6) | Dejon Brissett | REC | Richmond | Mississauga, Ont. |
| 8 (9) | Mason Bennett | DE | North Dakota | Winnipeg |
| 9 (15) | Marc-Antoine Dequoy | DB | Montreal | Île-Bizard, Que. |
| 10 (14) | Brendan O'Leary-Orange | REC | Nevada | Toronto |
| 11 (–) | Rysen John | REC | Simon Fraser | Vancouver |
| 12 (16) | Dylan Giffen | OL | Western | Strathroy, Ont. |
| 13 (8) | Adam Auclair | LB | Laval | Quebec City |
| 14 (18) | Adam Sinagra | QB | Calgary | Pointe-Claire, Que. |
| 15 (–) | Cameron Lawson | DL | Queen's | Caledon, Ont. |
| 16 (19) | Tyler Ternowski | REC | Waterloo | Hamilton |
| 17 (–) | Isaac Adeyemi-Berglund | DL | Southeastern Louisiana | Dartmouth, N.S. |
| 18 (20) | Jesse Lawson | OL | Carleton | Vancouver |
| 19 (12) | J.J. Molson | K | UCLA | Montreal |
| 20 (–) | Jack Cassar | LB | Carleton | Mississauga, Ont. |