NFL Injury Roundup: Saints WR Cooks out four-to-six weeks
Following another slate of NFL games on Sunday, TSN.ca tracks the injury fallout to key players throughout the league. Most notably, New Orleans Saints rookie Brandin Cooks suffered a broken thumb Sunday, while the Broncos are ruling tight end Julius Thomas day to day with an ankle injury. Colts RB Ahmad Bradshaw is believed to have broken ankle.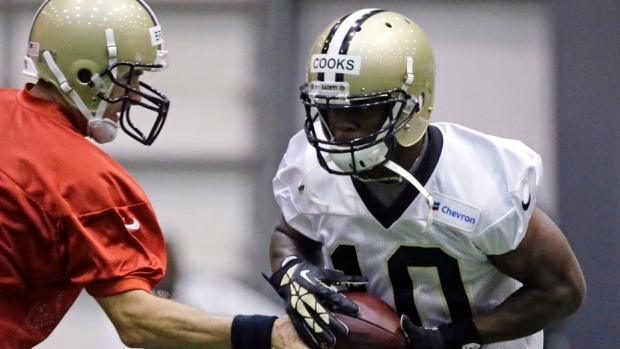 Following another slate of NFL games on Sunday, TSN.ca tracks the injury fallout to key players throughout the league.
New Orleans Saints
Rookie WR Brandin Cooks' agent confirmed Monday that Cooks suffered a broken wrist Sunday against the Cincinnati Bengals. His agent, Jeff Sperbeck, said Cooks underwent surgery Monday and will miss 4-to-6 weeks. The Saints have six games remaining and sit tied for the NFC South lead at 4-6.
Denver Broncos
Tight end Julius Thomas is considered day-to-day by the Broncos after leaving Sunday's loss with an ankle injury. Mortensen adds the Broncos are not 'overly concerned' about the injury. – Chris Mortensen.
Wide receiver Emmanuel Sanders suffered a concussion Sunday and is going through the NFL's concussion protocol. – Team Release.
Running back Montee Ball will be out two to three weeks after re-aggravating a groin injury. - Denver Post.
Running back Ronnie Hillman is expected to miss Week 12 with a foot injury. - Denver Post.
Indianapolis Colts
Running back Ahmad Bradshaw is believed to have suffered a broken ankle in Sunday's loss to the Patriots. He will undergo tests to determine severity and if surgery in neccessary. - Adam Schefter.
Tight end Dwayne Allen called himself "day to day" with the ankle injury that forced him out of Sunday night's game against the New England Patriots in the second quarter. Allen added he was "hopeful" to play in Week 12 against the Jaguars. – Mike Chappell.
Cincinnati Bengals
Running back Giovani Bernard is expected to return Week 12 against the Houston Texans. He's been missed the Bengals last three games with hip and collarbone injuries. – Team website.
Arizona Cardinals
Wide receiver Larry Fitzgerald suffered a Grade 2 MCL sprain on Sunday, but plans to play through the injury. Fitzgerald suffered the injury in the first half against the Lions and proceeded to finish the game. – Kent Somers.
Washington Redskins
Left tackle Trent Williams suffered an MCL sprain and an ankle sprain against the Tampa Bay Buccaneers. He's considered day to day. - Redskins head coach Jay Gruden.
Atlanta Falcons
Cornerback Robert Alford broke his wrist in Sunday's win over the Carolina Panthers. - Ian Rapoport.
Cleveland Browns
Outside linebacker Jabaal Sheard season's 'could' be over due to a foot injury. - Head coach Mike Pettine.
Inside linebacker Karlos Dansby is expected to be sidelined upwards of a month with a knee injury, however Dansby may still require season-ending surgery. - Pettine.
San Francisco 49ers
Nose tackle Ian Williams was placed on injured reserve with a broken leg on Monday. His roster spot was taken by nose tackle Glenn Dorsey, who was placed on IR with designation to return earlier this season. - Team Twitter.