No. 8 Alabama rides swarming defence to beat Arkansas
Calvin Ridley caught an 81-yard touchdown pass from Jake Coker and No. 8 Alabama rode its swarming defence to a 27-14 win over Arkansas on Saturday night.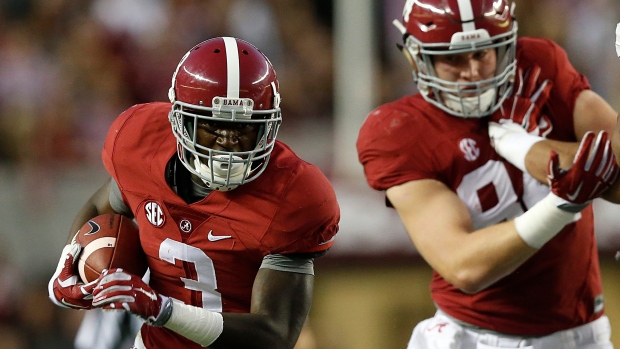 TUSCALOOSA, Ala. -- Reggie Ragland and Alabama's swarming defence delivered crushing hits and big plays.
Eventually, the offence struck, too.
Calvin Ridley caught an 81-yard touchdown pass from Jake Coker late in the third quarter and No. 8 Alabama rode the defence to a 27-14 win over Arkansas on Saturday night.
Stymied by early mistakes, the Crimson Tide (5-1, 2-1 Southeastern Conference) scored 24 points over the final 17 minutes after trailing at halftime. The Razorbacks (2-4, 1-2) couldn't do more than flirt with the upset despite two interceptions and a pair of missed Alabama field goals.
The Tide held Alex Collins to 26 rushing yards and added three sacks and an interception.
Coker was twice intercepted on deep balls in the first half but finished 24 of 33 for 262 yards with a pair of touchdowns. Derrick Henry ran for 95 yards on 27 carries and set an Alabama record late with a touchdown in his 11th consecutive game.
Ragland, Alabama's hard-hitting linebacker, had a sack, two quarterback hurries and a forced fumble to go with eight tackles.
Alabama has won nine straight games against an SEC West opponent and six in a row at home.
This one didn't come without nearly three quarters' worth of anxious moments.
Alabama's offence -- and Bryant-Denny Stadium -- finally came to life with one bomb dialed in by Lane Kiffin. That started a 17-point flurry over a 6-minute, 32-second span for an offence that had been repeatedly turned away shy of the end zone.
Coker hit a wide-open Ridley, yards behind the nearest defender, with 1:39 left in the third quarter. The freshman receiver had caught two long passes a week ago against Georgia in a breakout performance and topped that. He had 140 yards on nine catches.
Then Razorbacks coach Bret Bielema tried to keep his offence on the field with a fake punt from their own territory. Alabama stopped it well short, and scored again.
Alabama got a third-down defensive holding call and a 15-yard scramble from Coker. Then Coker hit Richard Mullaney for a 3-yard touchdown on a play-action pass for a 17-7 lead.
Eddie Jackson picked off Brandon Allen and returned it 20 yards to set up Henry's record-setting score. Allen added a long touchdown pass to Dominique Reed to improve his numbers to 176 yards on 15 of 32 passing.
The Razorbacks gained just 44 yards on the ground after racking up 275 in a win over Tennessee behind Collins' third straight effort of 150-plus yards.
The win set up a Tide road showdown with No. 9 Texas A&M, which had an open date to prepare.
The Razorbacks didn't see the same dominating all-around effort Alabama produced in a romp at No. 19 Georgia but the Ragland-led defence held up its end.
The student section briefly chanted "Reggie" late in the game for the Tide's defensive leader.