Nugent-Hopkins scores twice as Canada routs Denmark
Ryan Nugent-Hopkins scored twice as Canada cruised past host Denmark 7-1 Monday at the world hockey championship. Canada captain Connor McDavid, a teammate of Nugent-Hopkins on the NHL's Edmonton Oilers, had three assists.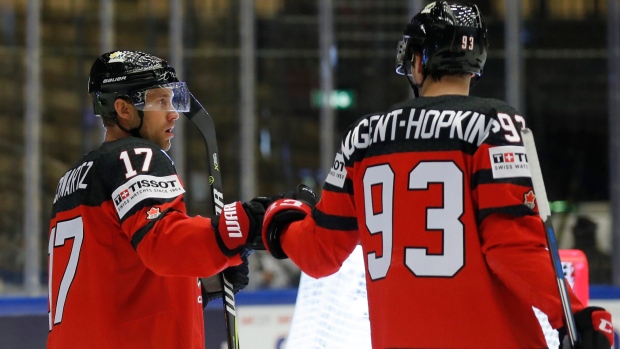 HERNING, Denmark — Connor McDavid and Ryan Nugent-Hopkins are showing that the chemistry they've built as linemates with the Edmonton Oilers can translate to the international stage.
Nugent-Hopkins scored twice and McDavid had three assists as Canada cruised to a 7-1 victory over host Denmark on Monday at the world hockey championship.
"They played quite a bit together down the stretch at the National Hockey League level and they've continued on here internationally," Canada coach Bill Peters said. "They think the game at a high level and read off each other real well."
Josh Bailey, Aaron Ekblad, Jordan Eberle, Ryan O'Reilly and Tyson Jost also scored for Canada, which now has two regulation wins and a shootout loss through three games.
Nugent-Hopkins, normally the No. 2 centre in Edmonton, was elevated to the left wing Oilers' top line late in the NHL season and had 15 points in 13 games playing with McDavid.
The two are clicking again in Denmark. McDavid, who now has seven points through three games, had a hand in both of Nugent-Hopkins' goals.
"The first one, I got a little lucky with where I placed it," Nugent-Hopkins said. "I just tried to chip it out and get some speed. Connor drove the net, which drove back the (defenceman) a little bit. I just had to put it five-hole."
On his second goal, Nugent-Hopkins said: "Connor made a great play on the blue line, again. He created a lot of space and tried to find Schwartzy (Jaden Schwartz). It bounced off the D-man's skate and came to me out front. I just had to tuck it upstairs."
Making his second start in as many games, Toronto Maple Leafs backup Curtis McElhinney was perfect until he was beaten on a shot by Jesper Jensen Aabo that deflected off a Canadian player, 8:07 into the third period.
"Just a redirection — that's how things are going to go at this point I think," said McElhinney. "Teams are just looking for bounces and stuff. They got one at the end.
"It's tough; I never want to give up a goal but I thought overall the team played great in front of me tonight."
The 34-year-old McElhinney, who is suiting up for Canada for the first time in his career at any level, made 14 saves as he continued his strong bid for the No. 1 job.
"Every test that he's gotten, he's stepped up to it," Peters said. "There have been some really good chances that we've given up so he's had to be sharp. That's exactly what he's done."
Monday's much-anticipated matchup between McElhinney and Maple Leafs goaltending partner, Frederik Andersen, didn't materialize. Denmark coach Jan Karlsson elected to rest his top netminder against Canada after Andersen faced 80 shots in his first two games.
The host nation is currently in tough to reach the quarterfinal — tied for fifth place after three games, with the only top four advancing to the elimination round. Andersen will be needed for Denmark's more winnable games through the remainder of the preliminary round.
Sebastian Dahm got his first start of the tournament for Denmark, making 22 saves on 29 shots.
The ice was tilted in Canada's favour right from the opening puck drop. The visitors outshot their hosts 14-2 in the first period and took a 2-0 lead off a power-play goal from Bailey and an even-strength slap shot from the blue line by Ekblad, set up by a smooth cross-ice pass from McDavid.
After Mat Barzal had a power-play goal early in the second period waved off due to goaltender interference, Eberle converted in the slot on another power play for his second of the tournament at 4:16, before O'Reilly showed off his strong skating and slick hands with a roof job over Dahm's glove at 6:53.
Nugent-Hopkins made it 5-0 just 24 seconds later, off the rush on a delayed penalty. He added his second of the game at the 6:43 mark of the third, and Jost finished off the scoring with his third of the tournament with 1:50 left in the third period.
With its enthusiasm sagging, the crowd of 10,800 at Jyske Bank Boxen sprang back to life when Denmark got on the board in the third period off a deflection in the slot that went between the legs of a surprised McElhinney. Fans stood and applauded their team with a thunderous ovation as the final seconds of the game wound off the clock.
In earlier action on Monday, Keith Kinkaid earned his second-straight shutout as the United States defeated Germany 3-0 to stay on top of the Group B standings, while Russia recorded its third-straight shutout with a 6-0 win over Belarus in Group A in Copenhagen. In the late game in Group A, Sweden beat France 4-0.
Canada now sits second in the Group B standings, one point behind the United States.
Canada's next game is Thursday against Norway, which is 0-1-1-0 through two games.