Nurse, Canada ready for FIBA Americas
Those that didn't know Kia Nurse's name learned it in a hurry over the course of 20 minutes, when the 19-year-old took over the gold-medal match and powered Canada to its first ever Pan Am basketball crown last month. Now she and Canada's women's team set their sights on a berth in the 2016 Olympics.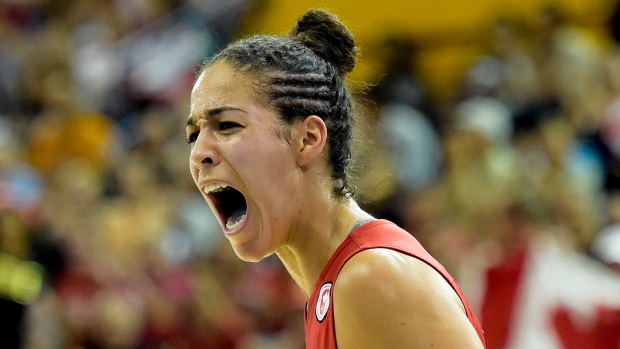 Heading into the 2015 Pan Am Games in Toronto, some Canadians knew who Kia Nurse was.
One of Canadian basketball's leading lights on a team looking to reach back-to-back Olympics for just the second time in the history of the women's tournament, Nurse already had a recognizable resume.
An NCAA Champion after her freshman year with the University of Connecticut, Nurse was perhaps better known because of her athletic family: She is the daughter of former Hamilton Tiger-Cats and Winnipeg Blue Bombers wide receiver Richard Nurse and the sister of Edmonton Oilers first-round pick Darnell.
If there was any doubt about her ability to establish a name of her own, however, it was demolished over the course of 20 minutes at Toronto's Ryerson Athletics Centre, when the 19-year-old took over the gold-medal match and powered Canada to its first ever Pan Am basketball crown last month.
"We talked about how we didn't have the half that we wanted to and the good part about that was that we were still tied," Nurse said of the team's state of mind heading into the second half level 36-36 with the United States. "We thought Canada Basketball was so much more than [how] we were playing and we just wanted to come out with a stronger momentum and kind of slow down theirs."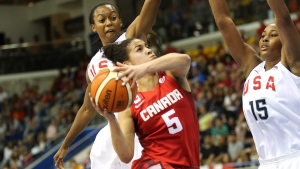 Nurse poured in 16 points over the final two periods, including a dominant final 13 minutes that saw the point guard rack up 14 points, highlighted by five trips to the charity stripe and a perfect percentage from the field.
In addition to the gold, the performance earned her the distinction of carrying the Canadian flag into the Games' closing ceremonies.
"That was just a big confidence booster for myself," Nurse told TSN.ca. "Sometimes I sell myself a little bit short, but for me to be able to do that on that stage is something that is going to help me push through the next couple weeks and I'm going to go out there and give it my all every day."
"The next couple weeks" is a reference to Canada's next task at hand, the FIBA Americas tournament, which kicks off this weekend in Edmonton and could earn the Canadian team an express ticket to the 2016 Olympics in Rio de Janeiro.
In training camp for the tournament since last Saturday, the Canadian team hopes to build on its Pan Am success and qualify for women's basketball's largest stage. "We definitely talked about how awesome it was to have a gold medal – and this was a goal for us – but our main and ultimate goal was the Olympic qualifiers," Nurse said.
"At the same time, for us to qualify on home soil would be incredible and for us to qualify a year early would be great, too, because a lot of our veterans have spoken about how we've had to qualify for things at the last-second, last-minute, do-or-die games."
Nurse also understands what it means to be part of the growing popularity of the domestic game, despite being a new face to the Canadian sports spotlight. She believes that her team plays a key role in the rising tide of Canadian basketball that is coming from both the women's and men's teams.
"I think the women's team is very similar to the men's side in that we have more players than ever going over to the NCAA and playing really well and doing really good playing huge roles on their teams and seeing results in the NCAA tournament," she said.
"The sport has been on the rise now for a little bit, but I think that now to come home and show Canada exactly how far we've come - that will be really exciting."
The men's team will get its turn shortly after the women's tournament wraps up at the FIBA Americas men's tournament in Mexico City Aug. 31-Sept. 12.
Canada's women, meanwhile, could see a lot of familiar faces at FIBA Americas. The team reacquaints itself with Pan Am opponents Cuba during the group stage, with Argentina, Venezuela and the Brazilians all possible knockout-stage foes. However, there will be no Pan Am rematch against the U.S. who qualified for Rio automatically by winning the 2014 FIBA Women's World Cup.
Canada's Opening Round Schedule
DATE
OPPONENT
TIME

Sunday Aug. 9

Puerto Rico

8pm et/5pm pt (TSN1, 5)

Monday, Aug. 10

Chile

8:25pm et/5:25pm pt (TSN)

Tuesday, Aug. 11

Dominican Republic

8:25pm et/5:25pm pt (TSN)

Wednesday, Aug. 12

Cuba

8:30pm et/5:30pm pt

(TSN2)
There is only one automatic berth in the Olympic tournament, as only the gold-medal winners are guaranteed qualification. However, the second-, third- and fourth-place teams all qualify for the Olympic Qualification Tournament in June of 2016 where as many as six additional spots could be at stake.
The task is tough, but Nurse believes that she and the team are up to the lofty expectations that came along with the team's headline-stealing Pan Am result.
"It's something that's new for us, because we never really had these expectations, but we've always held ourselves up to extremely high standards and we're going to continue to do that," Nurse said. "Dealing with expectations? We know what we're capable of and we know how good we can really be."
- With files from TSN.ca's Mike Beauvais
Watch Canada's tournament opener against Puerto Rico live on TSN1, TSN5 and TSN Go Sunday starting at 8pm/5pm pt.