Oilers seem comfortable chasing the game
No one would argue it's better to play from behind than tied or ahead, but the data suggests the Edmonton Oilers play their best hockey when trailing, Travis Yost writes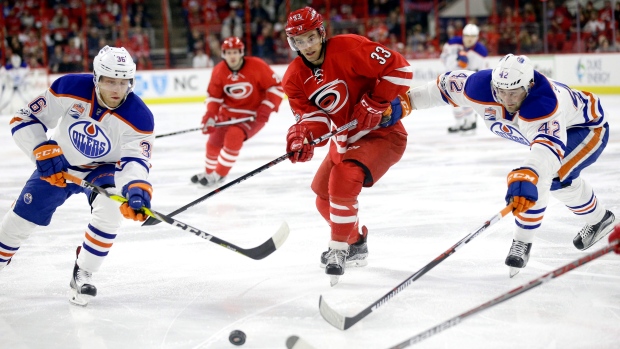 If there's one word to describe the Edmonton Oilers this year, it's probably improved. But if you gave me a second word, I'd choose resilient.
Lost in the shuffle of Connor McDavid grading out as maybe the best player in the Western Conference and Cam Talbot providing the goaltending backbone the Oilers have needed for a decade has been the team's impressive ability to wipe away deficits.
In some ways it seems easy to explain. A team like the Oilers – with plenty of speed at forward and a mobile-enough defensive corps – seems well suited for up-tempo, high-risk hockey. While no one would ever argue it's better to play from behind than tied or ahead, the data suggests the Oilers may be more comfortable than their peers when it comes to chasing the game.
At the team level, let's look at some of the 5-on-5 numbers. We're at a point in the season when teams have played hundreds of minutes in varying game states. At a system level, we know teams are more inclined to enter a shell to protect leads when they're ahead and increase the tempo when behind.
The interesting thing with Edmonton is how fantastic they have been in these trail situations. They have outscored teams when trailing in games 42-21 – the raw goal differential there being the best in the NHL, though on a rate basis they are second best in the NHL.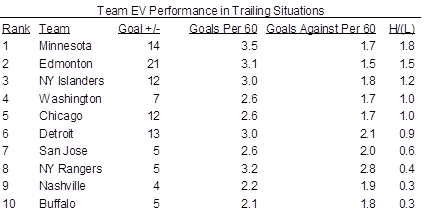 How are they doing it? Well, it's true that they are having a bit of shooting luck here. The Oilers are converting on 9.2 per cent of their 5-on-5 shots when trailing – a high percentage that we might not expect to continue. But just because they are shooting at such a fantastic rate doesn't mean they aren't doing other things well.
That's where the shot differential piece really intrigues me. Teams can drive funky goal differentials over a few hundred minutes if they get the right breaks. The Oilers are obliterating teams possession-wise though too, which is historically a great indicator of sustainability.
If you look at team Corsi% in trailing game states the Oilers again shine, with the second-best shot advantage across the entire league.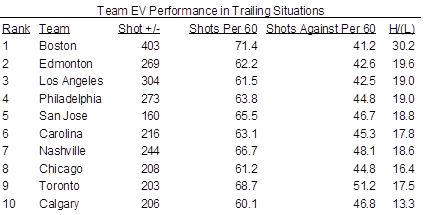 Again, we primarily care about rate here because a team like San Jose just isn't trailing as frequently as a team like Los Angeles or Calgary. The Oilers are a whopping 19.6 shots in the black per 60 minutes – again, second best in the NHL, this time only trailing the Bruins. That's a massive shot advantage and one of the big reasons why the goal numbers could hold up.
Is this a meaningful number? I certainly think so, mostly because there's a legitimate deviation in the way the Oilers seem to play here. An easy way to show this is to look at the delta in the shot advantage between Edmonton's performances when trailing against their performance when tied.
Historically, we know teams have better shot advantages when trailing (due to the shelling nature of teams who are in the lead), so an increase is all but guaranteed. But, their change is significantly more disparate than league norms.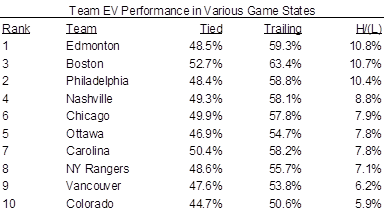 The average NHL team sees about a 5 per cent increase in their shot advantages when playing from behind. Note that the Oilers are more than two standard deviations from the expected increase – evolving from a very average 5-on-5 team to an elite 5-on-5 team when the only thing that changes is the fact that they're "chasing the game."
The players leading the charge here are the names you'd expect – McDavid, Leon Draisaitl, Patrick Maroon have had big years regardless of environment or circumstances. Their shot differentials explode when they trail, and not coincidentally, so too do their counting numbers. Eight of Maroon's goals this year have come in trailing 5-on-5 situations. McDavid has four goals and 12 assists, while Draisaitl has a goal and eight assists.
Some of this stuff is really just interesting descriptive data points, but because of the significant disparities, I do wonder if there's something head coach Todd McLellan can unearth from the video and tease back into the way his team plays at other times of the game. If the key is something like playing at a higher tempo or unshackling his defencemen, maybe he weighs the risk/reward and considers deploying his team accordingly.
At the end of the day, teams want to play with the lead because they know it's an easier path to victory. If there's an opportunity to turn early deficits into early leads, it's an area worthy of further investigation for the Oilers' front office.