Ontario pitcher McQuaid bouncing back at Canada Games after car crash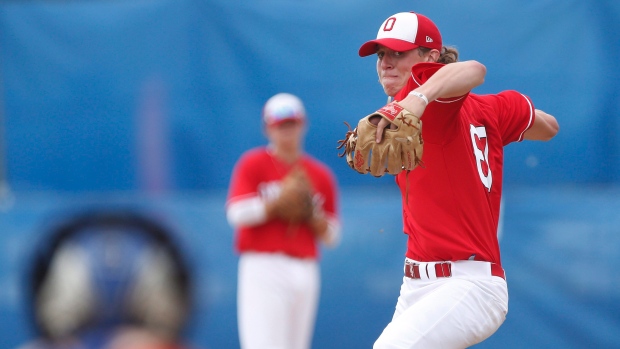 WINNIPEG — A year ago Zack McQuaid was lying immobilized in a hospital bed, wondering if he'd ever walk again.
The 17-year-old from Oshawa, Ont., had been in a head-on collision that fractured three vertebrae and broke his right hand in three places.
But a year and three days after the July 26, 2016 crash, McQuaid was on the mound as the starting pitcher for Team Ontario's first baseball game at the Canada Games.
"Since Day 1, it's been my goal to come back for the summer Games because I knew it was a big year this year," the right-hander said Saturday after throwing four scoreless innings with four hits, eight strikeouts and no walks in Ontario's 14-4 win over Prince Edward Island.
"I was just happy to be throwing again, to be honest, after all that happened. It healed a lot quicker than I thought it was going to, and doctors thought it was going to, and I'm back performing better than ever."
McQuaid was a passenger in the front seat of a GM Terrain heading back from a friend's cottage in the late morning to play a ball game at home. The friend's sister was in the back and her grandmother was driving. It's believed the grandmother, in her 60s, may have had a stroke. Their vehicle swerved into the oncoming lane and smashed into a Dodge Ram on a road about 10 minutes from Oshawa.
All three were wearing seatbelts, but somehow McQuaid got out of the vehicle and fell down.
"I remember waking up on the road, everything was white and my ears were ringing, and I could just hear people screaming, like car parts all over the road," McQuaid recalled. "I didn't know if I was going to make it through or not."
He was airlifted to a Toronto trauma centre and his parents rushed to see him after receiving a call.
"He was awake and talking so we felt hopeful because we honestly had no idea what we were walking into," said his mother, Heather, who's in Winnipeg for the Games with husband John and their younger son and two daughters.
They learned their oldest child had a "burst" fracture of the L5, but pieces of the shattered vertebra hadn't damaged his spinal cord. He also suffered less serious fractures to the L4 and L3. His right hand was broken in three places above his ring and middle fingers and he had contusions to his left lung.
"About 80 per cent of people are paralyzed with that type of injury," his father said.
The teen spent almost two weeks in hospital. At home, he was basically bedridden for the first few months and only walked a bit. His friend's sister also fractured a vertebra. She and her grandmother have recovered, John McQuaid said, adding he believes the two people in the other vehicle also recovered from serious injuries.
Zack's goal was to return playing at or near the level he was before the accident, when his fastball was clocked at 85 miles per hour.
The big question was whether his back could withstand the stress of forceful rotations.
He began a weekly routine of physiotherapy and chiropractic and massage appointments. He started gently tossing a ball last November and light pitching followed in January. In May, he was back on the mound for a few innings at a time with the Ontario Yankees under-16 team.
A week before the Canada Games, his fastball registered 89 mph.
"These numbers coming out now, it's crazy," he said. "Like it's nuts to think about. I'm so happy where I am."
Team Ontario head coach Scott Robinson, who was McQuaid's Yankees coach and also his pitching coach for the past two-and-a-half years, said he's in better shape because of his strict preparations.
"Miracle's a strong word, but the fact he's on that mound is pretty special," Robinson said.
"We still treat him like he's made of glass a little bit, but I'm really excited to see where he's at next winter when he's really able to leave the accident behind him and get some work in."
McQuaid is heading into Grade 12 and said he hopes to get a scholarship to play baseball at a Canadian or American university and then maybe enter the draft in three years.
"Proud, relieved," his mother said of seeing him play.
"He's worked hard to get back. It's amazing that he's made it back. It's been a long year, but well worth it."