Orridge pushes pause on CFL coaching carousel
Gary Lawless and Ryan Rishaug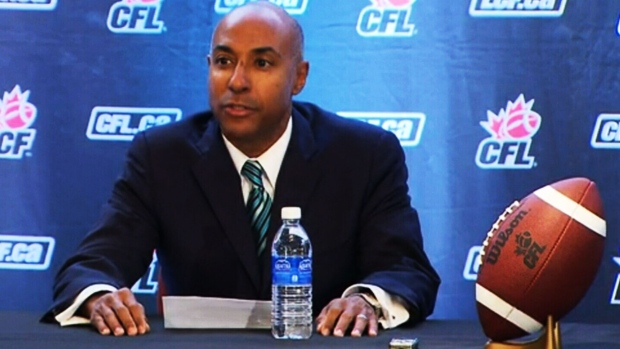 CFL commissioner Jeffrey Orridge has temporarily put a stop to all the coach flipping in his league, including any potential move for Noel Thorpe.
Orridge issued a memo to all CFL presidents and GMs on Wednesday afternoon that reads: "Effective immediately, there will be a moratorium on any coaches' movement from one club to another club, unless such transaction is expressly approved in writing by the commissioner or his delegate, prior to the movement taking place. This only applies to coaches who are currently under contract with a CFL club."
Coaches will still be able to move from team to team but they'll have to follow Orridge's protocol. The league will act as a clearing house on these transactions and attempt to eliminate breech of contract and tampering or the appearance thereof.
The CFL kicked off an investigation into Noel Thorpe's resignation from the Montreal Alouettes and potential move to the Edmonton Eskimos on Wednesday morning and Orridge moved to put a halt to what has become a running soap opera.
TSN's Ryan Rishaug reported late Tuesday night that Thorpe informed the Alouettes he was resigning from his assistant head coach and defensive coordinator positions. It's believed Thorpe was headed to the Eskimos for a similar position as the one he held in Montreal.
Rishaug reached out to Thorpe Wednesday, and the coach replied with a statement.
"Last night, I had a conversation and opened dialogue with Montreal Alouettes President, Mark Weightman, about my situation with the team and future standing.
After our conversation, it was confirmed in my mind that, in the best interest of both parties, our professional relationship could not continue forward. I confirmed this in writing to Mr. Weightman late in the evening.
My employment ended yesterday prior to the CFL moratorium imposed on coaching movement."
Thorpe, however, has two years left on his contract with the Alouettes and no out clause, according to sources. Edmonton did not request permission from Montreal to speak with Thorpe.
Orridge has declared Thorpe is going nowhere until he has concluded an investigation on the timing of Thorpe's resignation, restrictive covenant elements of his contract and whether there was any improper contact with Edmonton.
One CFL executive responded quickly to Orridge's memo.
"Coaches better be careful because there are going to be major ramifications on this and there's is unanimity that coaches' movement needs a legitimate policy for those coaches under contract," the executive said. "And that was before the latest issues with Maas and Thorpe. The Thorpe issue is an absolute joke. In the 80's and 90's we let football people run the business and drive the bus. Look what it got the league — almost killed it. Now we have professional operators and sophisticated owners who understand you don't let the inmates run the asylum. Why do we have contracts at all? What would stop a coaching from quitting midseason and going to work for another team in the postseason? The whole thing is insanity."
Eskimos GM Ed Hervey was recently fined by Orridge for "comments that bring the league into disrepute."
Hervey lost his head coach Chris Jones, lured to the Saskatchewan Roughriders for more title, responsibility and money, and then watched as Jones took his entire coaching staff with him to Regina.
When asked if he thought Saskatchewan had tampered with his former head coach, Hervey was blunt.
"As far as this league, we know that tampering does happen. It does. We do it. Everyone does it. It's just a part of the CFL," he said.
Tampering rules in the CFL state an individual directly or indirectly connected with one franchise is prohibited from "directly or indirectly through an agent or by public or private statement or inference, contacting or negotiating with any non-playing person connected with another member club."
Hervey followed the rules in hiring Jason Maas, asking the Ottawa RedBlacks for permission to speak with the coach before beginning the courting process. The Redblacks granted the request but subsequently informed the Eskimos they would be seeking compensation if Maas was offered a contract.
The Eskimos informed the RedBlacks they would be hiring Maas but not participating in any compensation. Orridge was dragged into the fray and brokered a settlement that allowed Edmonton to hire its new head coach but would also see the two franchises enter a mediation process to see if compensation for Ottawa is warranted.
Orridge and league governors are already looking at the process of coaches jumping from one team to another while still under contract. It's tradition in the CFL for teams to allow coaches to escape their contracts in order to take a promotion with another club — position coach to coordinator, coordinator to head coach or head coach to general manager. Protocol would have a senior executive from one franchise inform the organization of the targeted coach and seek permission to discuss a promotion.
In the case of Thorpe leaving his position in Montreal and potentially signing on in Edmonton, no permission was sought. Thorpe went straight to the stage of submitting his resignation.
Thorpe has had two stints with the Alouettes. He was the special teams coordinator and defensive backs coach from 2002-2007, and the defensive coordinator from 2013-2015. He has previously coached in Edmonton, from 2008-10 as special teams coordinator and defensive backs coach.
He was passed over twice for the Als' head coaching position. First when Als GM Jim Popp took over as interim head coach last season following the firing of Tom Higgins and again this off-season when Popp elected to stay on as head coach for the coming season.
- With files from Farhan Lalji
Below is the full memo from CFL commissioner Jeffrey Orridge:
Effective immediately, there will be a moratorium on any coaches' movement from one Club to another Club, unless such transaction is expressly approved in writing by the Commissioner or his delegate, prior to the movement taking place. This only applies to coaches who are currently under contract with a CFL Club.
For greater clarity, no Member Club or any person connected directly or indirectly with the Club will be allowed to have any contact or discussions with a CFL coach currently under contract with another Club, unless:
(a) permission in writing has been first obtained from the coach's current Club (President or General Manager) to engage in such discussions and express permission has been granted to enter into a contract with the other Club, and
(b) approval in writing by the Commissioner or his delegate copied to both Clubs and the coach, for the coach to engage in such discussions with the other Club.
Furthermore, the fact that a CFL coach currently under contract attempts to resign with his current Club in order to sign with another Club will not void or circumvent the two pre-conditions above for the duration of the coach's contract, provided that the coach's contract is legally enforceable.
This moratorium will be in place until further notice.