Ottawa Redblacks Season Preview
Get ready for the CFL season with TSN.ca's Team Previews. Check out roster breakdowns and season outlooks from CFL on TSN analysts. We'll roll out a new team each week day. Today, the Ottawa Redblacks.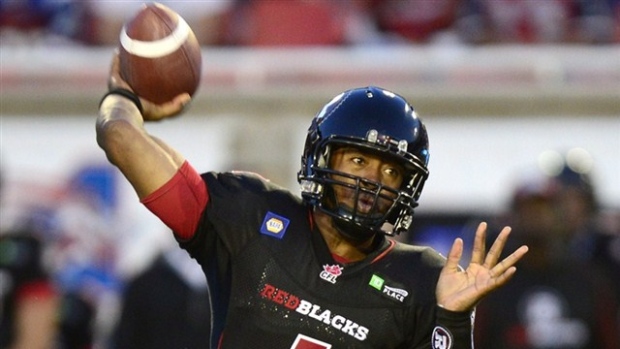 Redblacks continue build toward competitiveness
Head Coach: Rick Campbell
GM: Marcel Desjardins
| Record | Offence | Defence |
| --- | --- | --- |
| 2-16 | 300.0 (7th) | 372.7 (9th) |
With considerable momentum heading into their inaugural season, there was hope the Redblacks would perform better last year than they ultimate did; finishing with a very expansion-like 2-16 record.
The team continued their build towards competitiveness in the middling East Division with another busy offseason however.
SirVincent Rogers, Greg Ellingson, and Ernest Jackson were brought in as free agents while Maurice Price was acquired from the Calgary Stampeders via trade. Perhaps the biggest get was the electrfying Chris Williams, who returned to the CFL after two years in the NFL.
Rogers will improve the team's offensive line while Price, Jackson, and Ellingson - a favourite target of QB Henry Burris' in Hamilton - bolster a receiving corps that some are arguing is the best in the league now. Williams of course, helps the team both offensively and on special teams.
Still, the Redblacks are coming off a disappointing season and a top pass-catching unit won't fix everything.
Duane Forde's Canadian Content
One of the biggest obstacles that the Redblacks faced in their inaugural season was a lack of Canadian depth, as the Expansion Draft granted them barely enough homegrown players to fill the required twenty-one spots on the active roster.
Each of their first three draft classes, however, has given them reason to be optimistic about the future with first-round picks Nolan MacMillan (2013) and Antoine Pruneau (2014) emerging as rookie starters at guard and SAM linebacker respectively. The hope is that the club's 2015 first rounder, centre Alex Mateas, will follow suit and eventually allow veteran Jon Gott to slide over to play guard, where he was a West Division All-Star for Calgary in 2013. If one of MacMillan or J'Michael Deane eventually proves capable of playing tackle, it would provide the Redblacks with some much needed ratio flexibility.
Ottawa's deepest cache of National talent is at defensive line, where Justin Capicciotti posted a career high 11 sacks to earn the team's Most Outstanding Canadian nomination. He was regularly joined in the starting lineup by reliable veteran tackle Keith Shologan, with youngsters Zack Evans, Connor Williams, and Kalonji Kashama all seeing time in the rotation. Grade: C
Matt Dunigan's Quarterback Analysis
Can Henry Burris bounce back in Year 2 with the Redblacks?
Last year the Ottawa Redblacks signed Henry Burris (Temple) to come in and lead their offence, jettisoning Kevin Glenn off into the abyss in the process. Henry's infectious character and leadership skills were never in doubt in the inaugural 2-16 season, but the 15-year veteran was faced with a difficult dynamic behind the scenes that led to some underwhelming performances on the field.
Head Coach Rick Campbell addressed those circumstances in the offseason and brought in Jason Maas as new offensive coordinator and Bryan Chiu as the new offensive line coach. With Maas and Chiu now in the fold, the communication of game plans from week to week will be done as they should be.
You see, last year's OC/OL coach Mike Gibson, who was shown the door this offseason, did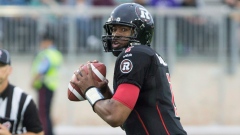 not meet with his QBs at all during the season! Just try to wrap your head around that for a minute. I've never heard of such a thing! I was blown away when I heard this and it certainly helped me understand the disconnect I saw on the offensive side of the football for the RedBlacks.
With that said, the Redblacks needed more fire power offensively for the gunslinger Burris to play pitch and catch with and they went out and got some! They signed acquired Maurice Price from Calgary, signed Greg Ellingson (Ham), Ernest Jackson (BC), and Brad Sinopoli (Cgy) as free agents, and drafted Jake Harty (University of Calgary). And if that's not impressive enough, they also landed Chris fricken' Williams fresh from the NFL.
Williams was one of the most electrifying players in the CFL just a few years back before he took a shot in that other league. You couple these new faces with holdovers Khalil Paden, Marcus Henry, Scott Macdonell, and Matt Carter, and you have a bevy of talent with depth. I fully expect Smilin' Hank to have an even bigger smile than usual this year as he walks into the huddle with that array of talent at his disposal. I know I would! Full analysis
Farhan Lalji's Draft Analysis
For those who were expecting first overall pick Alex Mateas to jump right in as the Redblacks starting center, with John Gott sliding over to guard, a position where he'd previously been an all-star, Rick Campbell doesn't appear ready to go down that road quite yet. Mateas has spent most of his time practicing with the second unit, and is expected to be Ottawa's sixth lineman when the season opens. That said, the man who started his final two seasons at the University of Connecticut has been everything the Redblacks expected he would be when they drafted him. He is still adjusting to the yard off the ball for defenders, but has graded out well in practice and in the pre-season opener. He has also been asking anyone and everyone around him what he can do to get better.
As the 10th overall selection in the draft, Jake Harty was taken a little higher than many expected, and he struggled with injuries and performance in rookie camp. But since main camp opened, he has shown plenty of improvement and had a solid pre-season opener. Overall, that has been Harty's biggest strength – an ability to make immediate improvements after mistakes, a key attribute for any rookie.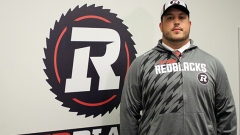 Following in the footsteps of fellow Manitoba alum Anthony Coombs, Kienan Lafrance was a bit of a wildcard selection on draft day. But he has shown so far in camp that the game isn't too big for him. There is a belief that he could help the Redblacks ratio-wise, and the door is still open for him to make the team as a backup tailback.
| Round (Pick) | Player | Pos. | College |
| --- | --- | --- | --- |
| 1 (1) | Alex Mateas | OL | Connecticut |
| 2 (10) | Jake Harty | WR | Calgary |
| 4 (28) | Tanner Doll | LB | Calgary |
| 5 (37) | Jefferson Court | FB | Utah State |
| 6 (45) | Kienan Lafrance | RB | Manitoba |
| 7 (54) | Alexandre Laganiere | OL | Montreal |
Paul LaPolice's Scouting Report
The Redblacks have more firepower offensively this year and should be able to score more points. Henry Burris needs to show that he can still be a productive leader of the offence now that he has better people around him. The offence needs to improve because they will play some of the best defences in the CFL with Montreal, Calgary, and Edmonton each on their schedule twice in their first seven games.
Coach Campbell is building a good young nucleus of Canadian talent with the addition of Alex Mateas and Jake Hardy in the draft, expect the Redblacks to be an improved team with more wins this season.
Read LaPolice's full Redblacks analysis here
East: Redblacks, Argonauts, Alouettes, Tiger-Cats
West: Blue Bombers, Lions, Roughriders, Eskimos,
East: Redblacks, Argonauts, Alouettes, Tiger-Cats
West: Blue Bombers, Lions, Roughriders, Eskimos, Stampeders