Packers, Broncos take long roads to 6-0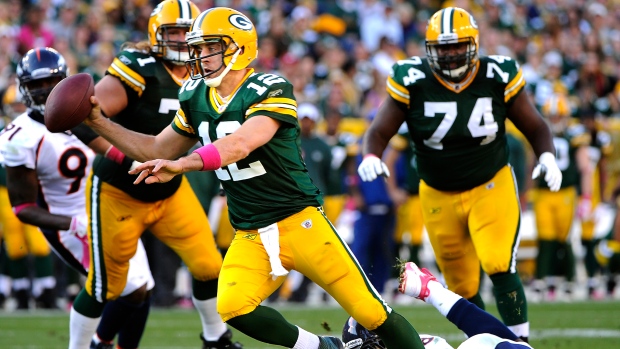 At the beginning of the 2015 NFL season, it would not have been a stretch to predict the Green Bay Packers and Denver Broncos entering their Week 8 contest at 6-0. What has been surprising, however, is how the teams have reached their record going into Sunday night.
The Packers, led by reigning MVP Aaron Rodgers, have failed to find their usual prolific scoring on offence, and instead have been backed by their typically maligned defence. On the other side, the Broncos have watched their star quarterback struggle mightily while being carried by their robust defensive group.
The Packers entered the season with a great number of questions on defence, including at their starting cornerback spot opposite Sam Shields and at pass rusher, while Clay Matthews backed off the line of scrimmage to play middle linebacker.
Yet the Packers' defence, which ranked 13th in points allowed last season, sits first in the NFL at 16.8 points allowed per game through six contests.
Rookie cornerbacks Damarious Randall and Quinten Rollins – selected in the first and second round of the draft, respectively – have been immediate contributors, with Rollins returning an interception for a touchdown against the St. Louis Rams in Week 5 and Randall breaking up a fourth-down pass attempt from Phillip Rivers in Week 6, which would have forced overtime. Randall sits second on the Packers in pass defended and has taken over the outside starting spot, relegating Week 1 starter Casey Hayward to the slot.
As for Matthews, he has rounded out his game at his inside spot with 25 tackles, 4.5 sacks, an interception and a fumble recovered.
Yet as the Packers defence has outperformed expectations, their offence has struggled to reach theirs.
Aaron Rodgers ranks third in the NFL with 15 touchdown passes, but he is also on pace to post his lowest yardage total in a healthy season since 2010. Much of the reason for his low yardage total is the buildup of injuries plaguing the Packers aerial attack.
On top of losing 2014 receiving leader Jordy Nelson to a preseason injury, Rodgers' next top weapon, Randall Cobb, has battled through a shoulder injury and Devante Adams, expected to pick up the slack for Nelson, has been limited by an injured ankle. Throw in Adams's replacement, third-rounder Ty Montgomery, suffering an ankle injury of his own and Rodgers has turned to an old face to provide offence. James Jones, cut twice in the previous calendar year by the Raiders and Giants, leads the Packers in receiving through six games with 424 yards.
With starting running back Eddie Lacy also hampered by an ankle injury, producing offence has been a grind for Rodgers and the Packers.
Grind may be the best word to describe the Broncos' perfect season to date; chock-full of narrow, nail-biting victories.
While the Broncos' defence was expected to be dominant – ranking second in scoring defence, first in passing yards allowed and first in overall yards – their offence was expected to do more than enough to put games away.
Through six games, though, the offence has failed to do its part. Peyton Manning, a five-time NFL MVP playing in his first year under head coach Gary Kubiak, is tied for the league-lead in interceptions (10) and has thrown just seven touchdowns. Instead of winning because of Manning, as has been the case in recent seasons, the Broncos have been winning in spite of their $17.5-million quarterback.

Broncos' 6-0 start
| Week | Opp. | Result | Manning Yds | Manning TDs | Manning INTs | Opp Def TDs | DEN Def TDs |
| --- | --- | --- | --- | --- | --- | --- | --- |
| 1 | BAL | 19-13 | 175 | 0 | 1 | 1 | 1 |
| 2 | KC | 31-24 | 256 | 3 | 1 | 1 | 1 |
| 3 | DET | 24-12 | 324 | 2 | 1 | 0 | 0 |
| 4 | MIN | 23-20 | 213 | 1 | 2 | 0 | 0 |
| 5 | OAK | 16-10 | 266 | 0 | 2 | 0 | 1 |
| 6 | CLE | 26-23 (OT) | 290 | 1 | 3 | 1 | 1 |
The Denver defence has repeatedly risen to the occasion and taken pressure off of their struggling offence with four defensive scores this season. Yet, the Broncos now face a Packers team that has turned the ball over just three times in six games this games this season.
If Manning continues to cost his team with interceptions and the Broncos' defence fails to get it back, Denver could suffer their loss of the 2015 season. However, the Broncos could also avoid a losing result by extending the sluggish offensive start for the Packers.
Sunday night will represent the deepest matchup in a season between two undefeated teams since the New England Patriots and Indianapolis Colts – led by Manning - met in Week 9 of the 2007 season. The Colts lost that game 24-20.
Should the Packers emerge as the victors, the team could face another undefeated suqad in Week 9 if the 6-0 Carolina Panthers defeat the Indianapolis Colts on Monday night.