With Brady suspension nullified, Patriots look to move on from Deflategate
With Tom Brady's four-game suspension nullified a week before the regular season begins, can Bill Belichick's men put Deflategate behind them and claim their 12th division crown in 13 seasons?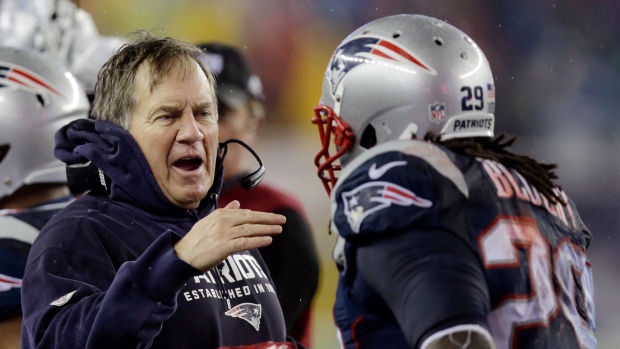 With "Deflategate" dominating the offseason narrative, the defending Super Bowl champion New England Patriots are more than ready for the talking to stop and the season to begin. The good news is Tom Brady's four-game suspension was nullified a week before the regular season, the bad news - especially for fans tired of the whole story - is the NFL is expected to appeal, carrying the story into the regular season.

Offence
Notables: QB Tom Brady, TE Rob Gronkowski, QB Jimmy Garoppolo, WR Julian Edelman, WR Reggie Wayne
2014 STATS
PASSING YARDS/GAME

257.6 (9th)

RUSHING YARDS/GAME

107.9 (18th)

POINTS/GAME

29.3 (4th)

Defence
Notables: LB Dont'a Hightower, DE Rob Ninkovich, LB Jerrod Mayo, FS Devin McCourty, SS Patrick Chung
2014 STATS
PASSING YARDS ALLOWED

239.8 (17th)

RUSHING YARDS ALLOWED

104.3 (9th)

POINTS ALLOWED

19.6 (8th)

Offensive Breakdown
Weathering the Storm
Tom Brady will no longer miss the first quarter of the season, but there is a risk now that if the NFL appeals, and wins the appeal, his miss four more important games later in the season. For now though, it's a win for Pats fans, and fantasy owners that gambled on Brady playing a full 16.
Brady's back behind centre, and according to private emails still has seven years left as a top quarterback, which means the Patriots offence should carry over nicely from last year's 11th-ranked unit.
Jimmy Garoppolo had gotten increasingly comfortable with more playing time in the preseason, challenging corners and not being afraid to go long and outside. But all that means at this time is New England is likely more comfortable with their backup quarterback in case of injury.
Reggie Wayne joins Brady's veteran receiving corps, and will likely start beside Julian Edelman to begin the year. Danny Amendola and Brandon LaFell (who still is carrying a foot injury) should contribute if healthy as well. Towering tight end Scott Chandler comes over from the Bills and provides another red-zone option.
Questions that linger on the line to start the season are a shoulder injury to right tackle Sebastian Vollmer and one to centre Bryan Stork, who has missed most of the preseason.
Key Player: Rob Gronkowski
The man slated to again be the Pats' lynchpin is party bus enthusiast and tight end, Rob Gronkowski. To call the 26-year-old the key to the Pats' offence might be an understatement.
RECORD-SEEKING GRONK
| STAT | CURRENT NUMBER | RANK | PATS' RECORD |
| --- | --- | --- | --- |
| RECEPTIONS | 308 | 9th | 672 (Wes Welker) |
| YARDS | 4,379 | 9th | 10,352 (Stanley Morgan) |
| TOUCHDOWNS | 54 | 2nd | 67 (Stanley Morgan) |
With Gronkowski heading into the season healthy (he missed the first game of last season coming off of ACL surgery), he'll once again be the team's top target and a nightmare matchup for whomever is slated to cover him, but the attention paid to Gronk will once again open up space for other receivers and certainly help ease the pressure on Garoppolo early. Because of Gronkowski's importance to the offence, he's essentially been given the preseason off.
Cause for Concern - Running Back
Both Stevan Ridley and Shane Vereen have headed to New York with the Jets and Giants, respectively. Veteran LeGarrette Blount and Jonas Gray, he of the four rushing TDs against the Colts in November, return and will compete with second-year back Dion Lewis for carries, while James White will likely take over Vereen's third-down role. Neither Ridley nor Vereen was particularly beloved by Patriots fans, but they could become remembered more fondly if problems persist in the backfield.

Defensive Breakdown
Changing of the Guard
One of the keys to the success of Belichick-coached teams is the idea that the system is more important that its pieces. Players change while roles stay the same. This idea will be challenged this season with Matt Patricia's defensive corps.
Not just anybody can replace corners Darrelle Revis and Brandon Browner. Super Bowl hero Malcolm Butler will be one of the men given that task, but who will be the other on the outside is still up in there. Bradley Fletcher, coming over from the Philadelphia Eagles, has worked his way up the depth charts, but will get exposed by receivers with speed and height. Tarell Brown looks to be the preferred option at nickel, leaving Robert McClain, rookie Darryl Roberts and Logan Ryan (who has only played once in the preseason) competing with Fletcher. The fact that the team has experimented with Devin McCourty at corner (and it did not go well) says that matters appear to be far from settled here. At safety, McCourty and Patrick Chung are firmly ensconced in their roles.
With Pats legend and five-time Pro Bowler Vince Wilfork plying his trade in Houston after 11 seasons at Foxboro, second-year defensive tackle Dominique Easley has starred in the preseason and will be expected to assume a much larger role with the team this year. A 2014 first-round pick out of Florida, Easley was limited to only 11 games last season has shown glimpses of the explosiveness that made him a tantalizing prospect out of school despite missing his senior year with an ACL tear. This year's first rounder, DT Malcom Brown (Texas) is a work-in-progress, but should play a large part as the season progresses.
The Pats will again be led at defensive end by sacks leader Rob Ninkovich and Chandler Jones, while the trio of Dont'a Hightower, Jerrod Mayo and Jamie Collins highlight one of the best linebacker corps in the AFC.

Draft Review
The Pats used their 11 picks this year to address needs both future and immediate with five of their first six picks answering concerns on both lines. Getting Brown all the way at 32 overall could prove to be a steal when it's all said and done, but if issues persist with the secondary, questions will be asked as to why only one corner (Roberts in the seventh round) was taken.
2015 DRAFT CLASS
| ROUND | OVERALL SELECTION | PLAYER | POSITION | COLLEGE | HEIGHT | WEIGHT |
| --- | --- | --- | --- | --- | --- | --- |
| 1 | 32 | Malcom Brown | DT | Texas | 6'2 | 320 |
| 2 | 64 | Jordan Richards | SS | Stanford | 5'11 | 210 |
| 3 | 97 | Geneo Grissom | DE | Oklahoma | 6'3 | 252 |
| 4 | 101 | Trey Flowers | DE | Arkansas | 6'2 | 266 |
| 4 | 111 | Tre' Jackson | G | Florida State | 6'4 | 330 |
| 4 | 131 | Shaq Mason | C | Georgia Tech | 6'1 | 300 |
| 5 | 166 | Joe Cardona | LS | Navy | 6'2 | 236 |
| 6 | 178 | Matthew Wells* | LB | Mississippi State | 6'2 | 215 |
| 6 | 202 | AJ Derby | TE | Arkansas | 6'4 | 255 |
| 7 | 247 | Darryl Roberts | CB | Marshall | 6'0 | 182 |
| 7 | 253 | Xavier Dickson | LB | Alabama | 6'3 | 266 |
* - traded to Chicago Bears