Pettine says criticism of CB Haden for not playing 'unwarranted'
Browns coach Mike Pettine called the criticism directed at Pro Bowl cornerback Joe Haden for not playing in Sunday's game because of a broken finger "unwarranted."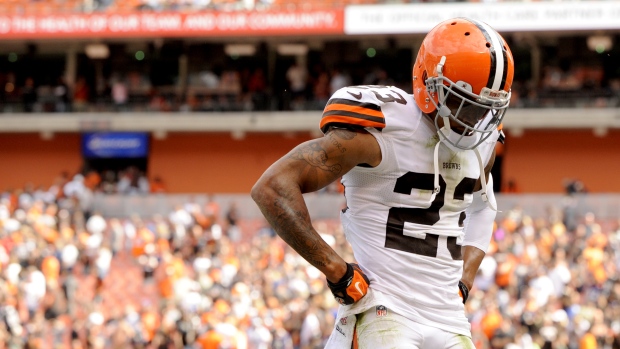 BEREA, Ohio - The hurt Browns cornerback Joe Haden felt was deeper than any radiating in his body.
After choosing not to play in Sunday's loss to San Diego, Haden was targeted by critics who felt he should have been on the field despite having a broken right finger.
He had done everything possible to play: taking injections, trying on a cast before deciding he couldn't help his team.
Haden numbed his finger. There was nothing to mask the sting he felt from those who harshly questioned his toughness and commitment.
On Wednesday, he fought back.
"I've been in Cleveland for a long time, feeling like you've got to prove yourself over and over — fight and play through injuries," he said after practice.
"It's just like, man, if I'm hurt, I'm hurt. If I can't go, I can't go. Hurt is different than injured. I play hurt all the time, but if I'm injured and I feel like I'm going to hurt the team I'm not going to go out there, that's just how it is."
Haden's comments came a few hours after Browns coach Mike Pettine accepted blame for some of the condemnation aimed at Haden, who broke the ring finger on his right hand a week earlier against Oakland.
Following Sunday's loss, and again on Monday, Pettine said it was solely Haden's decision not to play, saying "he didn't want to go."
Those remarks prompted a backlash from some fans and media members who felt Haden should have been on the field — broken finger or not.
Once Pettine became aware of the "flak" Haden was getting, he reached out to "one of the faces of our franchise — and patched things up.
"Nobody questions his toughness, his leadership, how important the Browns are to him, what football, what being a Cleveland Brown means to him and vice versa," Pettine said.
"So I think it's unwarranted, and I misspoke. Joe wanted to be out there. He wanted to play. But just in his assessment, did not want to put the team at risk knowing that he could not be at the percentage that in his heart he knew couldn't get to."
Haden, who also hurt his ribs against the Raiders on Sept. 27, said he tested his finger during pregame warmups before choosing not to play. Without Haden, Chargers quarterback Phillips Rivers passed for 358 yards and three touchdowns in a 30-27 win.
Haden said he should have been more open last week with Cleveland's coaches, who may not have understood the severity of his injury. But he wanted to play and pushed it as far as he could before informing the staff — "I threw them a curveball" — and his teammates that he couldn't go.
Haden said electing not to play was upsetting.
"It's the worst feeling ever, that's why I waited until the last minute," Haden said. "I wanted to go. I wanted to play. I'm a guy that we need for this defence. I can see where the coaches could come from not knowing that they gotta make game-plan decisions at the time of the game.
"But where I was coming from was I want to be out there. I want to help my guys, and at the end of the day if I'm going to hurt them not being able to use both hands and only playing left-handed, it's not going to be good."
Haden said he spoke to several defensive teammates before the game to explain his decision. For many of the Browns, Haden didn't have to say a thing.
"Joe is one of the most competitive guys on the team," linebacker Paul Kruger said. "He's been a consistently great player, somebody that wants to be out there every day. So I don't question his decision at all."
Haden said his finger has improved and he's hoping to play this week at Baltimore.
Because Haden was inactive after being listed as "probable" on the injury report last week, the Browns were required to provide a written explanation to the NFL, which is investigating the situation.
Pettine downplayed the issue.
"I don't know how often this happens, but we don't see this as a big deal," he said. "I doubt the league will as well."
A league spokesman said the matter is still under review.
NOTES: DB K'Waun Williams returned to practice after sustaining his third concussion in 13 games against Tennessee on Sept. 20. Williams said he began having symptoms during a practice and immediately told Cleveland's training staff. The 5-foot-9, 183-pounder understands the risks involved, but he intends to keep playing. "I've just got to be smart," he said. ... S Donte Whitner missed practice with an unspecified "illness."
___
Online:
AP NFL website: www.pro32.ap.org and www.twitter.com/AP_NFL