Popp: Argos' Wilder Jr. cleared but won't play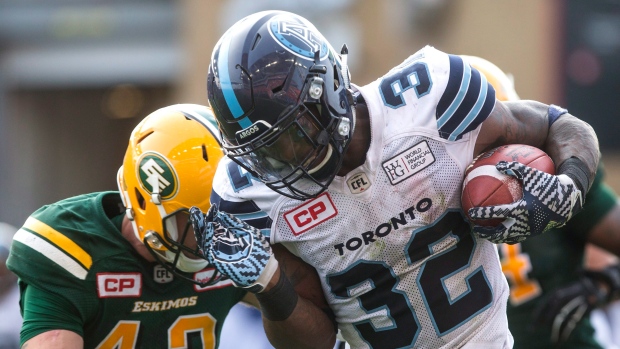 The Toronto Argonauts will be without James Wilder Jr. on Saturday against the Edmonton Eskimos despite the running back clearing the concussion protocol.
Wilder Jr. sustained a concussion in the team's loss to the Saskatchewan Roughriders last week, and Argonauts general manager Jim Popp said the team has decided to hold him out to ensure his health moving forward.
"James will be out this game," Popp told OverDrive on TSN 1050 Thursday. "He obviously was going through the concussion protocol this week, he actually cleared it, but we just felt it was best not to play him. It was the advice of the doctors that we probably shouldn't play him even though he cleared. With a handful of games left, and we want him down the stretch, we felt we should keep him out."
Popp noted Wilder Jr. staying down for an extended period against the Roughriders played a factor in the team's decision.
The 25-year-old running back rushed 13 times for 72 yards and caught seven passes for 89 yards against Saskatchewan before exiting.
The CFL rookie owns 86 carries for 624 yards and two touchdowns this season.
The Argonauts (7-8) sit first in the East Division with three games remaining this season.