Pospisil wins Indian Wells opener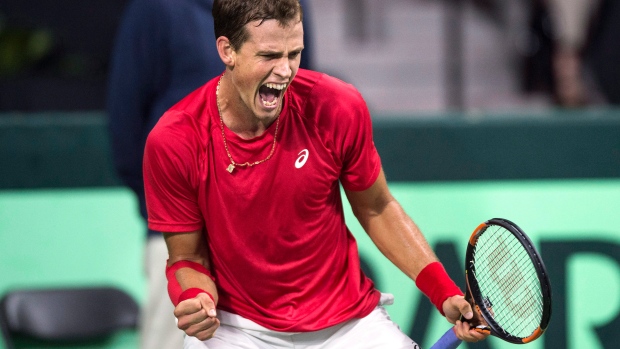 INDIAN WELLS, California - Maybe, just maybe, things are starting to turn around for Vasek Pospisil.
The native of Vernon, B.C., who had a miserable season a year ago on the ATP Tour, advanced to the second round at the Masters 1000 event in Indian Wells on Thursday night with a 6-7, 6-4, 6-3 win over Yen-Hsun Lu of Taiwan.
The 26-year-old controlled most of the points in the match and was unfortunate not to win it in straight sets. Pospisil was up 4-1 in the opening tiebreak and even had a set point but couldn't close it out.
Up 3-2 in the second set, the usually mild-mannered Pospisil was broken in the sixth game. Unimpressed, he whacked a ball against the back wall in frustration and then did the same with his racquet, which seemed to get his adrenaline flowing and turned the match in his favour. Pospisil immediately broke back at love and went on to win the second set.
After holding each of first six service games in the third set, Pospisil, down 40-0, rallied to win five straight points on Lu's serve to go up 4-3 and cruised to the finish line from there.
"I'm thrilled to be playing well, competing well," said Pospisil "I didn't have a great end to that first set by any means, but just very happy with how the body was feeling and how I was playing – especially how the match progressed."
Also impressive was how Pospisil's back felt throughout the match. It began bothering him a day earlier and Thursday morning it wasn't much better.
"I woke up pretty stiff this morning," he said. "I went to see the physios and they did a great job. I was little bit anxious about it, but it ended up feeling better than in my previous match."
Pospisil, the 2015 doubles champion here, has now won three straight singles matches at Indian Wells. The first two were in qualifying just to get him into the main draw. His reward is facing world No.1 Andy Murray on the main stadium court this weekend.
"The draw isn't the best," said Pospisil. "I could have had a better opponent in the second round for sure but that's how it goes. I'm going to do my best and just go out there and see what happens"
The last time Murray and Pospisil faced each other was on the grandest stage of them all – centre court at Wimbledon. Murray won a quarter-final showdown in straight sets in 2015. Murray has won all four of their previous meetings without dropping a set.