Prime Minister Trudeau kicks off Canada Summer Games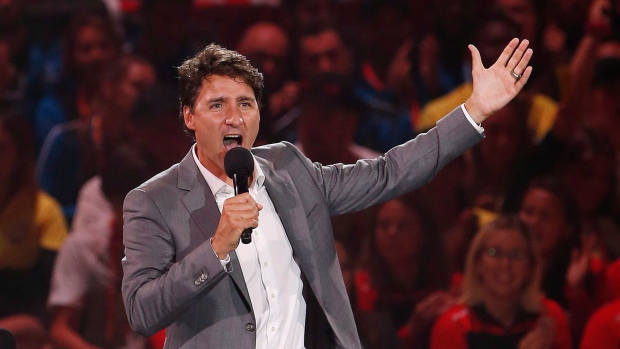 WINNIPEG — Prime Minister Justin Trudeau caused a bottleneck of athletes wanting a selfie with him as they paraded into the Bell MTS Centre during the Canada Summer Games opening ceremony in Winnipeg on Friday.
After walking into the arena holding the hand of his daughter, Ella-Grace, Trudeau sat on a stage with other dignitaries alongside the parade route featuring 2,500 athletes and team members.
As the Alberta athletes began the procession and walked by him, Trudeau first clapped, waved at them and then leaned forward and slapped some hands. Athletes then stopped to take selfie photos on their phones with the popular, young politician.
When the parade started slowing down because of the crowd gathering around Trudeau, a security person went near his spot and waved most of the athletes along. However, Trudeau continued to pose with some when the timing was right.
After bounding up on stage dressed in a grey suit with a white shirt and no tie, Trudeau passionately told the athletes they were the future and the present leaders.
"Everything you do, your drive, your determination, your engagement, means we are in great hands," he yelled to a cheering crowd estimated at 10,000, including athletes.
Canada's Minister of Sport Carla Qualtrough, who also had her youngest daughter sitting next to Trudeau's, was called up to join the prime minister.
She saluted the athletes' efforts and told them she's legally blind and had been a swimmer at the Seoul and Barcelona Paralympics.
The Canada Games is marking its 50th anniversary with more than 4,000 athletes and coaches competing in 16 sports and 250-plus events in Winnipeg, Gimli on the shores of Lake Winnipeg and Kenora in northwestern Ontario during two one-week stints from Saturday to Aug. 13.
Most of the athletes are 11 to 22 years in age, although Para and Special Olympics competitors can be older. For many, it's their first major multi-sport event and has sparked the careers of notable stars such as sprinter Andre De Grasse and cyclist/speed skater Cindy Klassen, who lit the cauldron to officially open the Games.
The theme of the upbeat opening ceremony was 'We are Canada.'
It featured 852 performers age nine to 89, who gave a nod to the Games' history, which began in 1967 with the winter event in Quebec City.
Six indigenous elders took part in a water ceremony after elder Dave Courchene Jr., told the athletes to protect Mother Earth. Two massive light-blue fabric pieces represented water and performers lifted them up to make them move like waves.
As the Prairie Voices choir performed the national anthem, a large Canadian flag was unfurled in the middle of the arena's floor. A military honour guard and members of the RCMP also stood by in recognition of Canada's 150th birthday.
Musical guests included the Bros. Landreth, who had two members of the Royal Winnipeg Ballet dancing in front of them, Quebec singer Coeur de Pirate and Serena Ryder.