Prosecutors split over Messi's guilt
Lionel Messi's tax fraud trial has concluded with a public prosecutor calling for the player's acquittal and the government prosecutor renewing his demand for a conviction.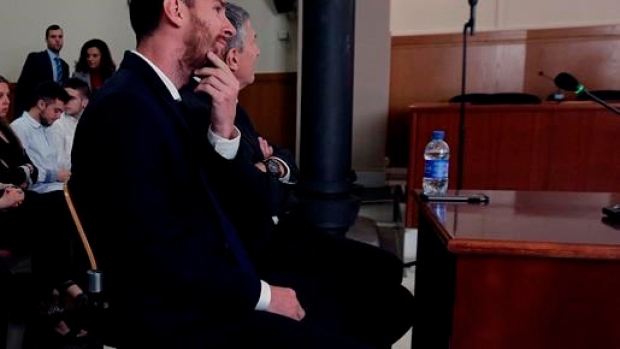 MADRID — Lionel Messi's tax fraud trial concluded with a public prosecutor calling for the player's acquittal and the government prosecutor renewing his demand for a conviction.
The four-day trial ended on Friday in Barcelona with both prosecutors contending that Messi's father, Jorge Horacio Messi, was the main person responsible for defrauding Spain's tax authority of 4.1 million euros ($4.5 million) from 2007-09. However, the legal representative for the tax office said Lionel Messi knew enough to also be held accountable.
He called for a prison sentence of 22 months each for both Messi and his father, while the public prosecutor requested a sentence of 18 months for the father only.
They are not likely to face any jail time even if found guilty, but could be fined and made to forfeit possible future tax benefits.
Messi and his father appeared in court on Thursday and denied any wrongdoing. Both said the Barcelona and Argentina forward was unaware of the tax issues that led to the fraud charges.
A verdict and sentencing could be announced as early as next week, but it is expected to take longer.
"Messi should be acquitted," public prosecutor Raquel Amado said in her closing arguments. "The fraud occurred because of a decision of his father. There is no evidence Messi was aware of it."
Government prosecutor Mario Maza said Messi and his father did not prove their innocence and were not able to show that the player did not have at least some knowledge of the corporate structures created to lower his tax burden in Spain.
"Messi knew more than he made it appear (in court)," Maza said, adding that they "showed no credibility."
Messi and his father refused to answer questions from Maza when they testified on Thursday, speaking only when quizzed by the public prosecutor, who had already called for Messi's acquittal before the trial began.
Tax inspectors testified they found evidence that Messi's father used companies in countries such as Uruguay, Switzerland, and Belize to pay fewer taxes on the player's income from image rights. Messi's father said he was told by a legal adviser that the practice was legal.
Because of the trial, Messi missed part of Argentina's preparations for the Copa America, which started late Friday in the United States.
He joined his national teammates on Friday in San Jose, and team physician Daniel Martinez said, "We are happy with how Messi is progressing" from an injury to his ribs and lower back picked up last week in a friendly against Honduras.
Argentina midfielder Augusto Fernandez said the team was ready to play without him.
"The chance that we can't count on Leo is a situation the team has to overcome. And we're prepared to share the responsibility," Fernandez said. "All of us want him to be around, but the decision depends on what's best for his health."
Argentina opens play on Monday in Group D against defending champion Chile in Santa Clara, California.
___
Tales Azzoni on Twitter: http://twitter.com/tazzoni. His work can be found at http://bigstory.ap.org/content/tales-azzoni