QB Tracker: Reilly set to be biggest prize in off-season
With more teams needing a proven quarterback than there are proven quarterbacks to go around, the bidding should be furious when free agency opens on Feb. 12. TSN breaks down each team's situation and what strategy they will employ to fill the sport's most important position.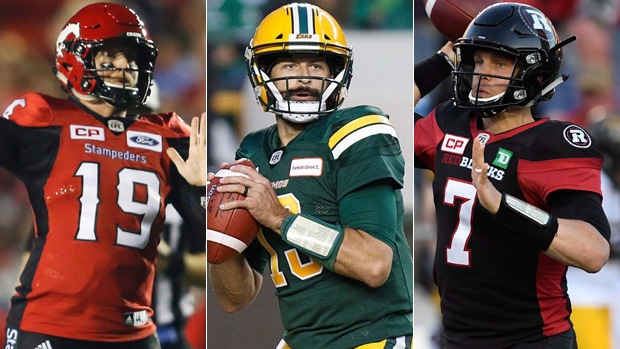 The 2019 Canadian Football League off-season is poised to bring more quarterback movement than any time in memory.
In fact, there are only two teams – Hamilton and Winnipeg – that can safely say who their starting quarterback will be in the opening week of the season.
With more teams needing a proven quarterback than there are proven quarterbacks to go around, the bidding should be furious when free agency opens on Feb. 12. Edmonton's Mike Reilly is set to be the biggest prize and one of the most sought-after CFL free agents ever.
Our TSN QB Tracker breaks down each team's situation and our sense of what strategy each team will employ to fill the sport's most important position.
---
Calgary Stampeders
PLAN A: BO LEVI MITCHELL
The reigning league Most Outstanding Player and Grey Cup MVP has had a remarkable seven years in the CFL and there's no reason to believe he can't continue it for many more; however after working out for at least a quarter of all NFL teams, it's believed Mitchell has options south of the border. Dickenson has encouraged Mitchell to consider the virtues of remaining in Canada, being among the highest-paid players in the league, having a great life and career.
PLAN B: MIKE REILLY OR TREVOR HARRIS
If Mitchell does leave for the NFL, the Stampeders will go big-game hunting. Signing a stop-gap quarterback and hoping Mitchell returns by September is considered too risky. That means trying to land the best quarterback available, so look for them to make pitches to both Mike Reilly and Trevor Harris.
INSIDERS' TAKE
It will be a surprise if Mitchell doesn't decide to take his run at the NFL, so the Stamps have to be prepared to go in another direction. Calgary is not typically a big player in free agency but they've been able to woo a few with a better opportunity to win. They can also sell that their quarterbacks tend to take fewer hits and sacks than most, which could mean extra years on a career – especially given the number of hits Reilly has taken in Edmonton. If they miss on Reilly and Harris, Calgary could be forced into stop-gap situation. Dickenson believes there is potential in current backup Nick Arbuckle, but the Stamps will need a veteran presence as well. Perhaps Arbuckle gets an extended look next to a veteran like Travis Lulay, or even soon-to-be 40-year-old Kevin Glenn. The 35-year-old, oft-injured Lulay still needs to decide if he wants to continue playing, but if he does, he has a huge fan in Dickenson.
Edmonton Eskimos
PLAN A: MIKE REILLY
Since 2013, Reilly has become a star in Edmonton. He has won a Grey Cup (2015) and a CFL Most Outstanding Player Award (2017). Outside of Connor McDavid, there might not be a bigger sporting name in the Alberta capital. Reilly has a strong relationship with Eskimos head coach Jason Maas and made that known at the end of the season when Maas' future was up in the air. Reilly is involved in the weekly game planning, knows the offence inside and out and there is a comfort there. Also, Reilly's camp has suggested that he might not sign a contract until a new CBA is signed. If he sticks to that, familiarity could be a factor, as not having a full off-season to digest a new offence for a new team might play in the Eskimos favour.
PLAN B: JAMES FRANKLIN OR JONATHON JENNINGS
James Franklin showed a lot of promise during his days as Reilly's backup in Edmonton. In 2015, he passed for just under 1,000 yards and six TDs, filling in for an injured Reilly. He also has a very strong connection with Eskimos new offensive coordinator, Jordan Maksymic, who was Franklin's QB coach when he was in Edmonton. Despite his struggles in Toronto last season, there could be trade interest in Franklin, who still has a year remaining on his contract. His former GM in Edmonton, Ed Hervey, is a fan, but B.C. simply doesn't have the high draft picks or other assets required to make that move. Edmonton GM Brock Sunderland does.
Jonathon Jennings is another possibility in Edmonton. His days in B.C. are certainly over, and there is still plenty of interest in a player who set the CFL on fire in 2016 with more than 5,000 passing yards. Despite struggling at times in 2018, Jennings had a hand on five of the team's victories during a 6-1 stretch in the second half of the season to earn a playoff berth.
INSIDERS' TAKE
If Reilly leaves via free agency, expect the Eskimos to explore the possibility of a trade with Toronto for Franklin. As for Jennings, his agent, Bardia Ghahremani, has a strong relationship with both Sunderland and new director of player personnel, David Turner. Given the injury histories of some of the other second-tier QBs available this off-season, Jennings is healthy and still has long-term potential. Multiple teams will consider him as an option to compete for a starting job. An ex-QB like Maas could help put Jennings in situations to be successful, making Edmonton a great fit. Kevin Glenn could re-sign and would be an ideal mentor and backup.
Saskatchewan Roughriders
PLAN A: MIKE REILLY
The Roughriders were a 12-win team last season despite getting subpar play at the quarterback position through most of the season. Reilly would change the dynamic instantly in Saskatchewan and would turn the Roughriders into a Grey Cup favourite. Offensive co-ordinator Steve McAdoo was in the same role for two seasons with Edmonton, including when Reilly led Edmonton to a Grey Cup win in 2015. Saskatchewan isn't short on decent receivers. They just need someone who can stay healthy and get them the ball. Reilly fits that bill better than anyone.
PLAN B: TREVOR HARRIS
Harris might be just the tonic for a team that had trouble keeping the football secure last season, with its quarterbacks tossing 18 interceptions against just 11 touchdown passes. Over the past three seasons, Harris has 68 touchdown passes and 25 interceptions. He's also remained mostly healthy over that span, which is no small consideration when you're considering breaking the bank for a quarterback.
INSIDERS' TAKE
If the Roughriders can't land Reilly or Harris via free agency, they could turn their attention to Jonathan Jennings, who has closed the books on his time with the BC Lions and is seeking a new home. Word is Chris Jones wasn't interested in bringing back either Zach Collaros or Brandon Bridge. It would be hard for his successor to differ with that opinion after the way last season ended. David Watford is under contract for next season but remains a work in progress.
BC Lions
PLAN A: MIKE REILLY
It's widely assumed that Lions GM Ed Hervey has strong interest in bringing Reilly back to B.C. After taking over as the Eskimos' GM following the 2012 season, the first major move Hervey made was trading for Reilly before he was due to become a free agent. The two men won a Grey Cup together in 2015, before Hervey signed Reilly to his current long-term deal that is about to expire. Hervey shared with Reilly the vision for how he was going to build the Eskimos around Reilly and the blueprint was followed to perfection. One would expect a similar vision to be shared this time around, come Feb. 12.
The Lions brand needs Reilly badly. There is significant apathy in the Vancouver marketplace and Reilly is one of the few names in the CFL that could change that. He would bring instant credibility back to the on-field product and excite the fan base.
PLAN B: A VETERAN WITH AN EYE TO THE FUTURE
The Lions are happy with some of the QB options they have in house – Ricky Lloyd, Cody Fajardo and Travis Lulay. The Lions think highly of Lloyd and believe he could be their QB of the future. If they don't sign Reilly, rather than looking at some of the more familiar names out there as a stop-gap they might look to the future and invest in the 26-year-old from Concord, Calif. The possibility of pairing him up with a veteran QB as a mentor in a two-quarterback system to start the year, until Lloyd is ready to take over full time, could make some sense here. What better mentor than Lulay (if he decides to continue playing), who served very well in a similar capacity to Jonathon Jennings the past four years?
INSIDERS' TAKE
Expect Hervey to go all-in and don't be surprised if he lands Reilly, as a move to B.C. would also get him closer to his off-season home in Seattle, where his wife, Emily, and daughters still spend the majority of their time during the season.
Ottawa Redblacks
PLAN A: TREVOR HARRIS
Trevor Harris has made it no secret he would like to sign an extension and stay, even potentially end his career, in Ottawa. Harris – now one of the CFL's most efficient passers –set a career high with over 5,100 passing yards in 2018. But a contract extension that appeared a near-certainty during Grey Cup week is still unresolved. Harris's agent, Paul Brown, is known to be a keen observer of the market around his clients and won't rush into any deal. And the market for Harris is growing.

PLAN B: DOMINQUE DAVIS
Redblacks general manager Marcel Desjardins has other off-season tasks – including possibly re-signing running back William Powell and receiver Greg Ellingson – so he won't be lured into a bidding war to keep Harris. In the past, Desjardins has said the Redblacks like to look for talent first within their organization, so backup Dominique Davis could be the first option Ottawa considers as Harris's replacement. Davis hasn't yet attempted more than 25 passes in a game in his three seasons in the CFL. But across the league, there is growing appreciation for offensive coordinator Jaime Elizondo's passing game, and a quarterback like Zach Collaros might be a reasonably priced option on the market. Leagues sources say Collaros is experiencing no side effects from the concussion that kept him out of the West Semi-Final.

INSIDERS' TAKE
Keeping Harris in Ottawa is the RedBlacks' top off-season priority, and that doesn't appear to be changing. But if negotiations for Harris's services drag on, look for the Redblacks to move on.
Toronto Argonauts
PLAN A: MIKE REILLY
The Argonauts might as well take their shot at the biggest fish in the pending free agent pond. At age 34, Reilly is playing some of the best football of his life and has remained healthy throughout each of the past two seasons. Being West Coast born and raised and having spent his entire CFL career in the West Division, a move to the East might require some convincing. But coming off a four-win season, Toronto may have more money to spend at the game's most important position than most teams.
PLAN B: TREVOR HARRIS
If the Argos can't land Reilly, it won't be surprising if they take a run at another pending free agent in Trevor Harris. Harris began his career as a Toronto Argonaut and has proven his worth in Ottawa, where last season he led the Redblacks to the Grey Cup while amassing his first 5,000-yard passing season. At age 33 this season, this could be his best chance to cash in on his skills and Toronto may have the salary flexibility to help him do that.
INSIDERS' TAKE
Adding proven experience at quarterback has to be a priority for GM Jim Popp who is entering the final year of his contract. There still remains the remote chance Ricky Ray will decide to continue playing, but would the Argos even want him? If the free agent market fails to land them Reilly or Harris, the job will come down to a battle between incumbents James Franklin and McLeod Bethel-Thompson, both of whom struggled last season.
Montreal Alouettes
PLAN A: JOHNNY MANZIEL
Despite the hiccups after they acquired him last season – a concussion, some health issues that caused him to miss practices and inconsistent play – the Montreal Alouettes fully intend on giving Johnny Manziel an opportunity to win the starting job at training camp. The Als gave up a boatload to acquire Manziel and would love to see him turn his bumpy rookie season experience into that of an effective and dependable starter. There is ample reason to believe that Manziel isn't wired to be a backup – the Tiger-Cats certainly believed so, which was part of their rationale for moving him.
PLAN B: ANTONIO PIPKIN
Had the Als known that Antonio Pipkin was capable of challenging Manziel for playing time, they would have never released him early in the season. But upon his return, Pipkin gave Montreal its steadiest quarterback play of the season. That might not be saying a lot, but Montreal feels good enough about the 23-year-old to have him be the primary competition for Manziel at training camp this spring. And if Manziel falters, Pipkin is likely to get first crack at the no. 1 job.
INSIDERS' TAKE
General manager Kavis Reed wanted to build a competitive stable of quarterbacks to emerge with a true starter. With Manziel, Pipkin and Vernon Adams – all under the age of 27 – there is loads of potential. We'll have to wait and see if Montreal has a true no. 1.
Winnipeg Blue Bombers
PLAN A: MATT NICHOLS
Matt Nichols only threw for more than 300 yards once in 2018, but he still effectively led Winnipeg on a critical five-game winning streak in September and October, and won a playoff game in Saskatchewan. Nichols has two years remaining on his current contract and has the apparent faith of Winnipeg's locker room and front office. But his abilities are regularly debated across the league. One lasting memory of Winnipeg's 2018 season was Nichols getting booed when he wasn't benched during an August home loss to Ottawa.
PLAN B: CHRIS STREVELER
When a right knee injury sidelined Nichols at the start of the 2018 season, Chris Streveler emerged as the CFL's new, budding quarterback talent. Streveler's obvious energy, mobility and strength offered more possibilities for offensive coordinator Paul LaPolice's extensive playbook. Beyond Winnipeg's short yardage package, Streveler had scripted plays in nearly every game and finished his first season with more than 1,100 passing yards and nearly 500 rushing yards.
INSIDERS' TAKE
The intriguing question surrounding Winnipeg's offence heading into 2019 is: How much more will Streveler be involved in Winnipeg's offence? Nichols will start the season, but it feels like everyone in Winnipeg, and across the CFL, is anxious to see all of Streveler's potential.
Hamilton Tiger-Cats
PLAN A: JEREMIAH MASOLI
No quarterback situation is as concrete as the one in Hamilton. Jeremiah Masoli overcame doubts over his abilities and the shadow of Johnny Manziel in 2018 to thrive in June Jones' run-and-shoot offence. Masoli was praised continuously for his work ethic, and his 5,200 passing yards, and eye-catching chemistry with receiver Brandon Banks, earned Masoli the East Division's Most Outstanding Player Award. No one is taking Masoli's job in Hamilton.
PLAN B: DANE EVANS
Jones repeatedly praised then third-string quarterback Dane Evan's commitment and physical abilities early in 2018. In the weeks leading up to Manziel's late July trade to Montreal it became increasingly obvious Evans had moved up the quarterback depth chart to become Hamilton's backup. In the last game of the season, with Hamilton resting Masoli, Evans threw more than 300 yards in his first CFL start.
INSIDERS' TAKE
With so much quarterback uncertainty across the CFL, it's conceivable that over this off-season the Hamilton Tiger-Cats and Masoli's agent, Fred Weinrauch, could look to extend Masoli's current contract, which ends in 2019.