Redblacks' Jackson emerges as CFL MOP candidate
Five years ago Ernest Jackson was playing in the Ultimate Indoor Football League. Now the dangerous receiver is the East Division nominee for Most Outstanding Player in the CFL.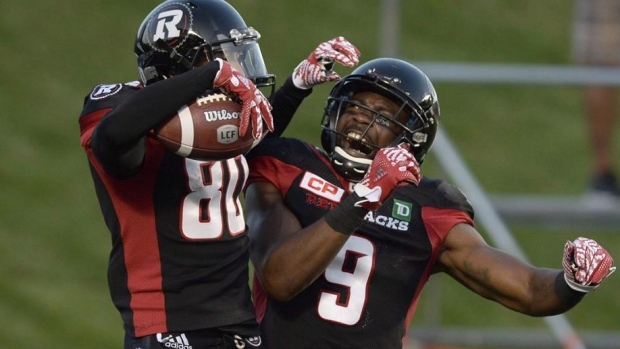 OTTAWA — Five years ago Ernest Jackson was playing in the Ultimate Indoor Football League. Now the dangerous receiver is the East Division nominee for Most Outstanding Player in the CFL.
Jackson, who broke into the league in 2012 with the B.C. Lions, wore his trademark smile as he spoke Friday of the recognition for his performance this season.
"It's an incredible honour for me personally," Jackson said. "It feels great to have something like that knowing how much I grinded it to get this far and to see it all come together is a beautiful thing.
"It's been a great journey coming from arena football. I'm taking it all in and I'm enjoying it."
Jackson is one of four Ottawa receivers who surpassed the 1,000-yard mark for a second straight season with 1,225 yards and ten touchdowns. Most impressive was the fact Jackson, a native of Rochester, N.Y., didn't drop a pass all year.
Calgary quarterback Bo Levi Mitchell was the MOP nominee in the West.
After three seasons in B.C., Jackson signed with the Redblacks in 2015 and has been instrumental to the team's success the past two seasons.
"I've always said Ernest to me is the best all around receiver in this league," said Ottawa quarterback Henry Burris. "(Jackson) does it all. He blocks in the running game, he comes down and plays tight end and blocks defensive ends and linebackers, things that other great receivers in this league don't do. He's our emotional leader for our wide receiver crew and he's one of our emotional leaders for our team."
The Redblacks boast four extremely talented receivers in Jackson, Chris Williams, Brad Sinopoli and Greg Ellingson. All four bring different attributes to the game, but for whatever reason the 30-year-old Jackson doesn't often get the spotlight.
"He's the one who will draw the blocking assignments or will carry the ball out of the backfield with the handoff and will lower his shoulder and absolutely relish his contact whether it's carrying the ball or after he carries a pass," said TSN football analyst Duane Forde. "The way he does it might be a little less glamorous, but for me the part that gets overlooked in his game is that he has that physical style, as well as the ability to make the big play. To me he is probably the most versatile of the four, but because of that balance in how he plays he's the least glamorous of the four."
Jackson attributes his versatility to his first year in B.C. He didn't get a lot of playing time, but made the most of being around some of the game's best.
"There were so many good guys in B.C. and so I had to grind it out and learn from guys like Arland Bruce III, Geroy Simon and Nick Moore," Jackson said. "I did my best to learn from those guys and model the different things they did to find success and brought it to my game."
With four talented receivers the potential for adversity could be expected, but the foursome get along very well.
"Everybody's a little bit different so I think that's why we compliment each other so well," said Ellingson, who is roommates with Jackson. "We all want each other to do well. He's well deserving of this honour. He's made tough catches, clutch catches and he's given a spark when we needed it. I'm happy for him and proud of him."
Jackson is in the final year of his contract, but says he hasn't given any thought to his future, as he wants to focus on this season and the Redblacks appearance in the East Final next weekend.
Notes: Redblacks coach Rick Campbell was nominated for Coach of the Year for the second straight season, while offensive lineman Jon Gott is a nominee for Most Outstanding Offensive Lineman and Jason Lauzon-Seguin, the Redblacks first-round pick this year, was nominated for Most Outstanding Rookie.