RedBlacks seek compensation from Eskimos
By Dave Naylor, Gary Lawless and Ryan Rishaug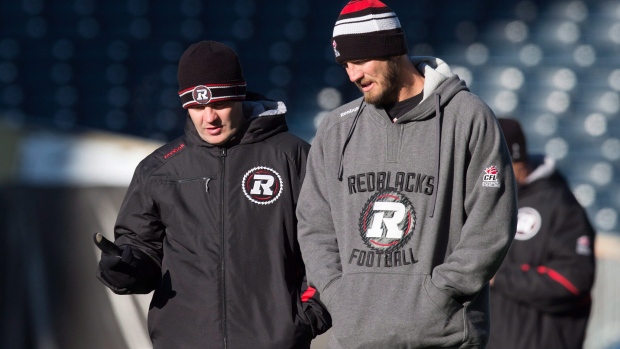 CFL commissioner Jeffrey Orridge is expected to preside Monday over the dispute regarding the Ottawa RedBlacks demand for compensation over the hiring of offensive co-ordinator Jason Maas as the Edmonton Eskimos new head coach.
The Eskimos had been expected to introduce Maas at a news conference in Edmonton on Monday. However, it is possible that announcement will be delayed while the parties and Orridge try to resolve the matter.
The issue may come down to two things: past practice of hiring coaches for advancement in the CFL and the timing of Ottawa's request for compensation from Edmonton.
On Monday, Dec. 7th, Edmonton Eskimos general manager Ed Hervey asked for and was given permission to speak to Maas by Ottawa general manager Marcel Desjardins, with no mention of compensation being involved.
Subsequently, a discussion was initiated by RedBlacks president Jeff Hunt with Eskimos president Len Rhodes, informing him that Ottawa would require compensation to release Maas from his contract.
Maas resigned from his post with Ottawa on Sunday night and has accepted the Edmonton head coaching job, believed to be a three-year deal which includes being the team's offensive co-ordinator.
Maas' resignation, however, does not legally release him from his contract, which is the matter Orridge must now preside over.
Ottawa RedBlacks president Jeff Hunt acknowledged Sunday night the club had received Maas's resignation, without any discussion of compensation from the Eskimos.
"Compensation reflects the fact that we have experienced a loss, no different that losing an important player under contract," said Hunt. "Losing an important coach is the same or more. Why wouldn't we be compensated?"
"This isn't about holding back Jason and I told him so. I know he would expect we would honour our deal with him no matter what. In this circumstance the Eskimos knew we were withholding consent to hire Jason until the matter of compensation had been addressed. They simply ignored that request and hired him anyway."
The issue of compensation for hiring coaches under contract is not new in the CFL. And when asked about it at the CFL's state-of-the-league address during Grey Cup week, Orridge was non-committal on the matter.
The Eskimos decided not to seek compensation from Saskatchewan when the Roughriders hired then-Esks head coach Chris Jones as their new head coach, general manager and vice-president of football operations.