Reilly named MVP, Chambers top Canadian
Edmonton Eskimos quarterback Mike Reilly has been named the most valuable player of the 103rd Grey Cup. Eskimos receiver Shamawd Chambers was named Top Canadian in the Grey Cup.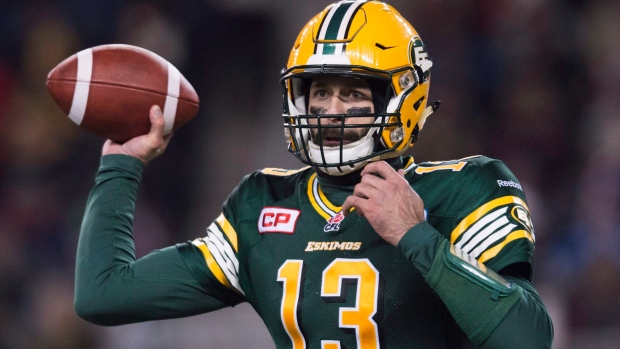 WINNIPEG - Edmonton Eskimos quarterback Mike Reilly has been named the most valuable player of the 103rd Grey Cup.
Reilly completed 21-of-35 pass attempts for 269 yards, two touchdowns and no interceptions in Edmonton's 26-20 win over the Ottawa Redblacks in Sunday's CFL championship game.
He also connected with Akeem Shavers for a two-point convert on the game-winning touchdown.
Reilly also led the Eskimos in rushing with 66 yards.
The Eskimos won their 14th Grey Cup, but their first since 2005.
Shamawd Chambers ended a frustrating 2015 season with a bang.
After missing most of the campaign with a knee injury, the 26-year-old native of Markham, Ont., was named the top Canadian in the Eskimos' title win.
The injury forced Chambers to miss all but Edmonton's final four regular-season games. The six-foot-three, 220-pound receiver only had two catches for 49 yards but one was for 32 yards and helped set up a touchdown for the Eskimos.
"It's kind of a surreal moment," Chambers said. "It's been a long year.
"I'm just here thanking God for giving me the opportunity to be able to play in this game. My teammates all stayed behind me and really supported me . . . when you get into games like this the only thing you can do is just play as hard as you can and when the game is on the line you've got to make sure you make the plays that come to you."
Chambers was selected sixth overall by Edmonton in the 2012 CFL draft following his collegiate career at Wilfrid Laurier. He finished his rookie campaign with 37 catches for 390 yards and two TDs, then followed that up with 42 receptions for 465 yards and four TDs, all career highs.
The knee injury limited Chambers to just three catches for 13 yards this season but also allowed him to learn about perseverance and determination from Reilly, who missed most of the first half of the 2015 campaign after suffering a knee injury in the club's season-opening loss to Toronto.
Edmonton caught fire when Reilly returned as the starter, reeling off 10 straight wins, culminating with the Grey Cup title. But Chambers drew inspiration watching the Eskimos' offensive leader work to get back.
"You learn to respect a man a different way when you see him at his lowest point and that's where you really see character," Chambers said. "I got to see him at his lowest point, some points I really wouldn't see him at again because I know how much of a competitor that he is.
"Being able to see him there I just knew when he gave me the opportunity to make a play I had to go out and do it for him."