Reinhart scores pair as Canada remains undefeated with win over Finland
Sam Reinhart scored two goals and his linemate Anthony Duclair had another as Canada stayed perfect at the World Junior Championship with a 4-1 victory over Finland on Monday night. Curtis Lazar also scored and Max Domi had a pair of assists for Canada (3-0-0), which ends group stage play with a showdown against the United States (2-0-1) for first place on Wednesday.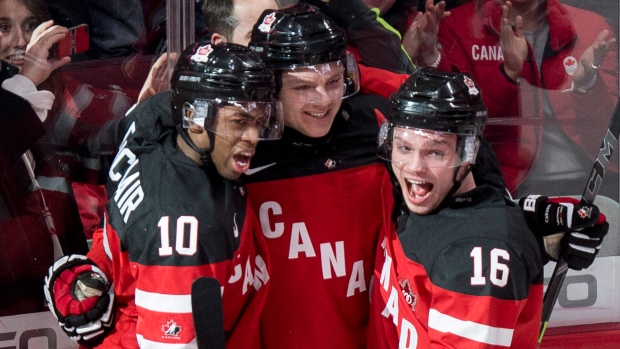 MONTREAL - It was the Sam Reinhart line's turn to shine for Canada at the world junior championship.
Reinhart scored twice, Anthony Duclair had another and Max Domi had two assists as Canada took revenge on Finland with a 4-1 victory on Monday night.
"It's every line, every night, at least for the generating part of it," Reinhart said. "We were able to carry the momentum through all four lines and that's what's needed in a tournament like this."
Curtis Lazar had the other goal for Canada (3-0-0), which ends group stage play with a showdown against the United States (2-0-1) for first place on Wednesday night.
Montreal Canadiens prospect Artturi Lehkonen scored for Finland (0-2-1), which must beat Germany on Wednesday to advance to the quarter-finals.
Since their selection camp opened on Dec. 11, Canada's coaches have stressed speed and skill on all four lines and, so far, it has worked.
In a tournament opening 8-0 win over Slovakia, the Robby Fabbri-Nic Petan duo did much of the damage. In a 4-0 win over Germany, Connor McDavid had three points.
There was a clear step upward in competition against Finland, the defending champion, but even the tight-checking Finns couldn't hold off Canada's relentless attack. Canada outshot Finland 36-28.
"They tighten up, but we moved the puck the best," said Reinhart. "We've got the most speed and it made it easier on entries. Against teams that trap, that's what we've been practising."
At last year's tournament in Malmo, Sweden, Finland beat Canada 5-1 in the semifinals to ensure the Canadians would go a fifth-straight year without a gold medal.
Reinhart, one of seven returning players, said revenge was not the main issue. But vengeance drew a smile from team captain Lazar.
"Especially for us returning guys," said the Ottawa Senators winger. "We know the program they have there (in Finland) is outstanding. They won the tournament last year. We knew we couldn't take them lightly. I felt that all through our lineup, we were ready to go."
The Finns have scored only once in each game and are 0-for-13 on the power play in the tournament. And now they're in a must-win game against the Germans.
"Now we can see how big and how much character this team has," said Lehkonen. "If we bounce back and beat Germany, we'll be stronger for this experience and we'll be a stronger team when we face Sweden or Russia (in the quarter-finals)."
Canada got the opening goal 5:32 into the game when Reinhart fed Shea Theodore at the point and then tapped his rebound past Juuse Saros.
The crowd of 15,718, the largest so far at the Bell Centre, roared when Julius Honka tied up Domi for a moment in a corner. But when they got up, Domi slipped a cross-ice pass to Duclair, whose pass in front was defected over Saros by Reinhart for his second of the game and of the tournament.
The Finns got one back when Samuel Morin misplayed a puck in his zone and Lehkonen jumped on it and banged his own rebound past Zach Fucale with 1:34 left in the second period. It was the first goal allowed by Canada, which has outscored its opponents 16-1.
Domi took the puck hard to the net and Duclair was on the doorstep to lift in his rebound 11:15 into the third period.
Saros dropped a Josh Morrissey point shot and Lazar poked in the loose puck on a power play at 14:25 to make it 4-1.
It was a strong game for Fucale, who made a big stop on a Roope Hintz breakaway in the first minute and a handful more big saves. Saros was almost as good in the other net, and got a break when Domi hit a post from the slot in the second period.
"We knew it would be a hard-fought game and we were ready for that," said Fucale, who was the losing goalie last year against Finland. "We were very confident coming into the game. We played a strong team game."
Coach Benoit Groulx said he will announce on Tuesday whether Fucale or Eric Comrie will start in goal against the Americans.
The open flow of the first period was a surprise as the Finns went on the attack after falling behind early. There was a stretch of more than five minutes without a whistle in the first that featured big scoring chances at both ends.
Notes — The Canadian juniors are 23-8-6 all-time against Finland. . . Finland dropped Pittsburgh prospect Kasperi Kapanen to the second line and promoted Juuso Ikonen. . . Canada went 2 for 3 with the man advantage and is 5 for 10 for the tournament.