Report: Glennon favourite to start for Bears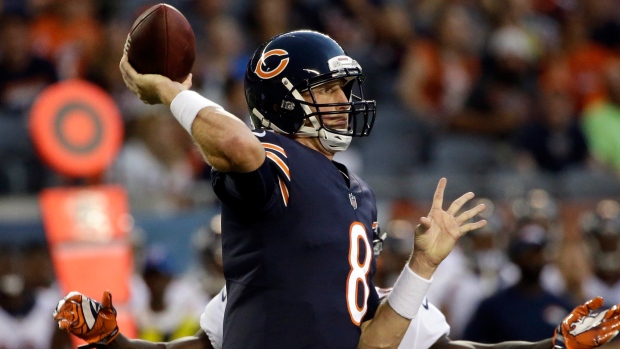 Mike Glennon had a rough start to his tenure with the Chicago Bears in the team's 27-17 loss to the Denver Broncos in Week 1 of the preseason, while his fellow pivot on the other hand, rookie Mitch Trubisky, looked very impressive in his professional debut. Despite the highly contrasting performances of the two quarterbacks, Glennon is the "strong favourite" to get the starting nod in the team's season-opener versus the Atlanta Falcons, reports Brad Biggs of the Chicago Tribune.
Against the Broncos, Glennon completed just two of his eight pass attempts for a total of 20 yards, and threw a pick-six on the third play of the game. While, Trubisky went 18-25 for 166 yards with a touchdown pass. The 22-year-old Trubisky also led Chicago down the field for its other TD in the game.
Biggs points out that the entire first-string Bears offence struggled against the Broncos and not just Glennon. As such, the Chicago Tribune says he expects Glennon to start the season over Trubisky based on everything that he has heard the Bears continually say in regards to their quarterbacks. Biggs does admit, though, that the odds could change depending on what happens in the team's next two preseason games.
Glennon, 27, signed with Chicago in the off-season on a three-year contract worth a reported $45 million. He spent the first years of his career with the Tampa Bay Buccaneers, where he started 13 games as a rookie before manning a reserve role the last couple of seasons. For his career, he has made 18 starts, and thrown for 4100 yards and posted a TD to interception ratio of 30:15.
The Bears traded up from their original draft position of third overall in the first round of this year's draft to second in order to draft Trubisky. The product of North Carolina threw for 3748 yards and 30 touchdowns versus just six interceptions in his final season with the Tar heels.