Report: Redskins' Smith has infection in leg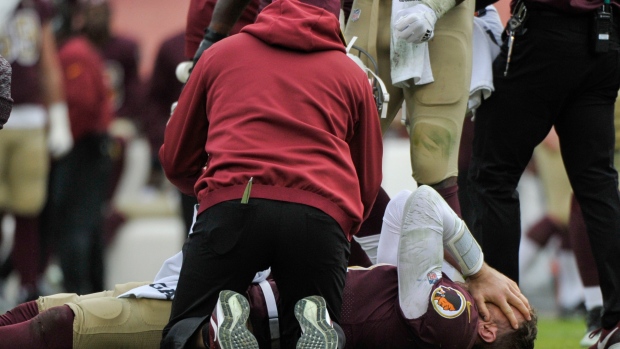 Washington Redskins quarterback Alex Smith's road to recovery from a devastating leg injury appears to have gotten longer.
According to NFL Network's Ian Rapoport, Smith is battling an infection in his leg as a result of surgery on his leg. Rapoport adds Smith has undergone multiple procedures on his leg and doctors are removing tissue in an attempt to clear the infection.
Smith is still optimistic about playing in the future, per Rapoport.
The Redskins released the following statement on Thursday:
"On behalf of Alex Smith, we appreciate all of the concerns and prayers over the injury he incurred on November 18th against the Houston Texans. Although this is a serious injury, Alex and his family remain strong. We would ask that everyone please honour the Smith family's request for privacy at this time."
Smith suffered a compound fracture, meaning the bone broke through his skin after being sacked by Kareem Jackson on Nov. 18. Trauma surgeons discovered Smith suffered a spiral fracture in his leg, defined as a long bone broken by a rotational force.
Rapoport notes surgeons performed surgery on Nov. 18 in an attempt to prevent infection.
The 34-year-old was already believed to be facing a lengthy recovery before the infection.