Steelers extend QB Roethlisberger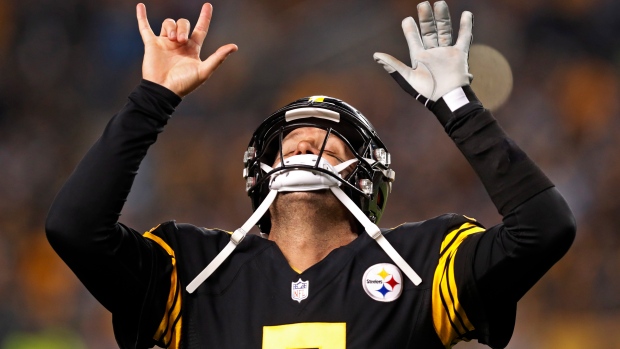 Ben Roethlisberger will be sticking around the Steel City a little bit longer.
The Pittsburgh Steelers signed the two-time Super Bowl-winning quarterback to a new three-year deal on Wednesday.
Roethlisberger, 37, had one year remaining on his current deal and will now be under contract through 2021.
"I am pleased to announce Ben Roethlisberger has been signed to a new three-year contract," said Steelers president Art Rooney II. "Ben is one of the most productive quarterbacks in NFL history, and he continued to climb the lists among the all-time passing leaders in the League last season. But I know Ben's focus is on only one goal – to bring another Lombardi trophy back to Pittsburgh. We are excited to finalize this new contract that will keep him as a Steeler through the 2021 season."
A native of Lima, OH, Roethlisberger heads into his 16th NFL season since being taken with the 11th overall pick out of Miami (OH) in the 2004 NFL Draft.
Roethlisberger started all 16 games for the Steelers last season, throwing for a league-leading 5,129 yards on 452-for-675 passing with 34 touchdowns to 16 interceptions.
A five-time Pro Bowler, Roethlisberger led the Steelers to victories in Super Bowl XL and Super Bowl XLIII.
"I am grateful to the Rooneys and the Steelers organization for continuing to believe in me," said Roethlisberger. "It has always been a goal to play my entire career in Pittsburgh. This is home for me and my family, and we love this city. I am as excited to be a Steeler in year 16 as I was when they drafted me. They will get my absolute best."
Roethlisberger's 56,194 career passing yards is sixth all-time, trailing only Drew Brees, Peyton Manning, Brett Favre, Tom Brady and Dan Marino.