Revis Island might be group trip for Jets vs. Bengals' Green
While Darrelle Revis is looking forward to the season-opening showdown against A.J. Green and the Bengals, the New York Jets might make defending the Cincinnati Bengals' star wide receiver a group excursion.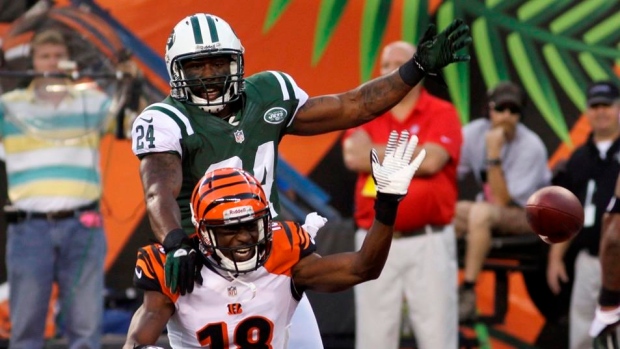 FLORHAM PARK, N.J. — A.J. Green is first up on this season's Revis Island itinerary.
While Darrelle Revis is looking forward to the season-opening showdown, the New York Jets might make defending the Cincinnati Bengals' star wide receiver a group excursion.
"That's just one of many matchups," coach Todd Bowles said. "It's a team effort, and we've got to pick our spots, and I'm sure they have to pick their spots. It's not even about Revis and Green. It's about us against them."
Still, how the Jets handle Green on Sunday will get lots of attention — particularly how often he and Revis end up going one-on-one against each other.
Green led the Bengals with 86 catches and 1,297 yards receiving last season, and joined Randy Moss as the only players in NFL history with five or more consecutive 1,000-yard seasons to begin their career.
"Uh, every challenge possible," Revis said when asked how difficult Green is to face. "I've definitely got a lot of respect for the guy."
That's high praise from a player who has long been considered a shutdown cornerback, and one of the best to have played his position.
The last time the two squared off was in 2014, when Green caught four passes for 64 yards with Revis — playing for New England — defending him, before the cornerback left with a hamstring issue.
"He's one of the top receivers in the league," Revis said. "He definitely is."
That's why the Jets might take a different approach with Green by giving Revis safety help with Calvin Pryor and/or Marcus Gilchrist.
"As we look at it, it won't just be Revis, it'll be a lot of people," defensive co-ordinator Kacy Rodgers said. "A.J. is a tremendous player. We have to have 11 sets of eyes kind of knowing where he is. In looking at the way we're playing, it's not necessarily a 1-on-1 matchup that way."
That doesn't mean, however, that there won't be some moments Sunday when it's simply Green vs. Revis. But sharing the load is certainly OK with Revis.
"I think the game plan this week is very comfortable for everybody," Revis said. "I think we're going to try to switch things up a little bit this week for us to maybe just wear their key guys on offence down a little bit."
That approach, according to Revis, could make the Jets' defence less predictable.
"It's a lot of confusion, it could be, and it will be to our benefit," he said. "That's one of the things, coming into this week, we're trying to accomplish."
While Revis is still regarded as one of the NFL's top cornerbacks, the mystique that surrounded his weekly shutdowns of teams' No. 1 receivers — which prompted the "Revis Island" nickname — is perhaps not as strong as it once was.
The respect remains, though. But there's also the reality that Revis is now 31 and perhaps a slight step slower than he was a few years ago.
"It's going to be a good matchup," Bengals quarterback Andy Dalton said. "We're going to trust that our guy's going to win, and that's the mindset you have to have. When you have one of the best receivers in the league, that's what you expect from him. That's what A.J. expects from himself, and we wouldn't want anything less."
Revis still relies on an impeccable work ethic and his smarts to put himself in great position while defending receivers. In fact, the numbers-crunching site ProFootballFocus.com rated Revis the No. 1 cornerback last season in terms of completion percentage when targeted at just 44.2 per cent — more than 2 points better than Arizona's Patrick Peterson (46.8 per cent).
But a wrist injury early last season sapped Revis' ability to jam receivers at the line of scrimmage, one of the strengths of his game. Then, some younger and faster receivers had big games against him in Buffalo's Sammy Watkins and Houston's DeAndre Hopkins.
That caused the doubts about Revis to begin seeping in to some fans and media. Opponents, however, know better.
"He's so instinctive," Dalton said. "He'll give you different looks, he'll play off, he'll press, he's got great ball skills. Just his understanding of routes and concepts is what makes him such a good player. His instincts are some of the best out there."
Revis' wrist is healthy again, and the star cornerback has seen a difference being able to play in bump-and-run coverage in training camp and the preseason.
"It's definitely good to feel good and be able to strike at the line of scrimmage and be able to jam guys," Revis said. "For me, it took time and patience, and now I'm finally at a point where I can actually do that."
___
AP NFL website: http://www.pro32.ap.org and AP NFL coverage on Twitter: http://www.twitter.com/AP_NFL