Richardson rejects Riders on contract length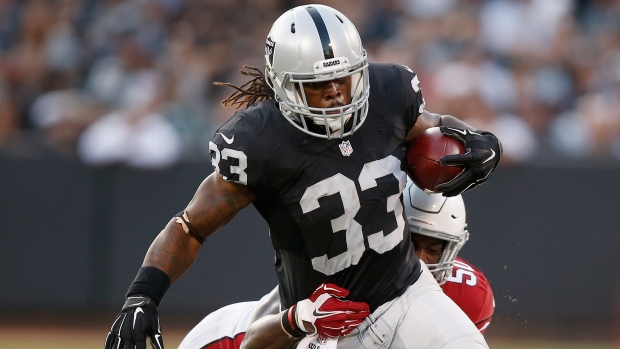 Running back Trent Richardson was reported to be heading to Regina to finalize a contract with the Saskatchewan Roughriders, but that no longer appears to be the case.
According to Matt Zenitz of Al.com, Richardson, the third overall pick in the 2012 NFL draft, has decided not to sign with the CFL team. Richardson told Al.com he would have to sign a one-year contract with a team option for a second, meaning he couldn't make a potential return to the National Football League until 2019.
Three Down Nation was the first to report the possible signing.
The Roughriders added Richardson to their negotiation list last month. Richardson last played in the 2015 pre-season with the Oakland Raiders. He was cut after rushing for 42 yards on 15 carries over three games.
Roughriders head coach Chris Jones confirmed the team had been talking to Richardson on Tuesday, adding the running back should have been in Saskatchewan.
"He's on our neg list," Jones told Riderville.com. "We've had discussions with him. Evidently, there are some problems getting him here.
"He was supposed to be up here already. He's not here, so we'll see if he ever gets up here to play."
He signed with the Baltimore Ravens in April 2016, but was cut by the team in early August.
The former Alabama standout rushed for 950 yards in his rookie season with the Cleveland Browns, adding 367 receiving yards with 12 touchdowns.
He was traded to the Indianapolis Colts for a first-round pick just two games into his sophomore season. Richardson rushed for 458 yards and three touchdowns in 14 games with the Colts.
The 27-year-old posted 519 yards and three touchdowns on 159 carries in 2014. His time with the Colts ended when he was not dressed for the team's first two playoff games and was suspended for the AFC Championship for violating team rules. The Colts waived him the following March.