Rielly a game-time decision for Maple Leafs
Toronto Maple Leafs defenceman Morgan Rielly could return from right ankle injury tonight against the St. Louis Blues.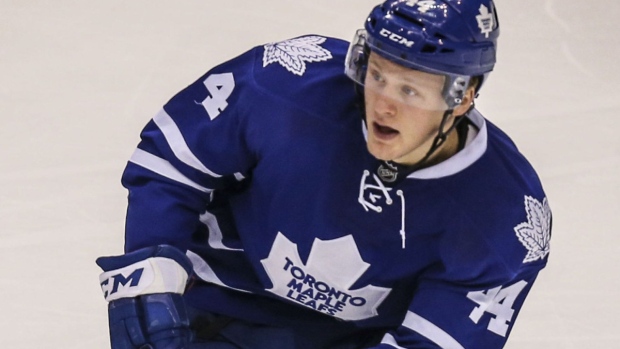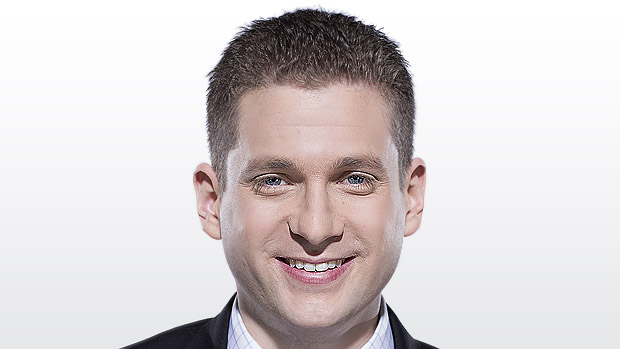 TSN Toronto reporter Mark Masters checks in with news and notes from Maple Leafs practices and game-day skates. The Leafs and Blues skated at the Scottrade Center Thursday morning ahead of tonight's game.
- Will Morgan Rielly play tonight? "Felt good this morning, but nothing's 100 per cent yet so we'll see at game time, but it's going in that direction," the defenceman said after skating with his teammates for a fourth straight day. Rielly has missed the last six games with a right ankle injury. "I feel like I've had just about enough of watching," the 22-year-old added with a smile. Head coach Mike Babcock said Rielly will be in as soon as he tells him he's ready.
- The lines at Toronto's morning skate were the same as Wednesday's practice, but Babcock played coy when asked if those groups (listed below) will start Thursday's game together. "I don't know if they're even making the warm-up tonight, but they looked alright today."
- Babcock has consistently described Mitch Marner as a player who can drive a line. What has allowed a 6-foot, 170-pound winger to do that? "That's a great question. I always thought wingers couldn't and then I watched [Patrick] Kane and he can do it. There are a few guys in the National Hockey League who can drive a line as a winger and they usually possess the puck more than other people and he's one of those guys. His work ethic and his pace and his confidence give him an opportunity to do that."
- In the Blues dressing room, it was Marner's line with Nazem Kadri and James van Riemsdyk that was listed first on the white board. St. Louis is well aware of what the NHL's reigning rookie of the month is capable of. "He gets out of corners really well," said Blues defenceman Kevin Shattenkirk. "When you're checking him in the corner, he seems to be very slippery. He seems to have a very good first step out of there. His ability to beat you back to the net, to come out of tight turns, it's something you have to be aware of." Marner's elusiveness has impressed van Riemsdyk. "He's really good at putting the other team, particularly the defenders, in vulnerable positions where it's tough for them to make a play on him and it gives him so much more time with the puck." Always modest, Marner said his veteran linemates deserve a lot of the credit. "You try and keep your feet moving at all times," the teenager noted. "You don't want to get stuck to the wall or else you get dominated. JVR and [Tyler Bozak] have kind of helped me all year creating space for me down low and letting me do my thing."
- Shattenkirk knows van Riemsdyk's game very well. The pair is long-time friends and former teammates at the world juniors, world championships and Olympics. "I remember playing against him growing up and a lot of these summer hockey things he always had a gold helmet for whatever reason," van Riemsdyk recalled, "and you're always wondering before you meet, 'Who is this guy in this helmet out there?' But now he's a great friend and a great player, tremendous player. We always had some good battles." Shattenkirk has seen his buddy take a huge step forward since Babcock took over behind the bench in Toronto. "He's put a few more things into his game to make him a complete player ... He used to be a guy who floated around, but he seems to be doing the right thing now," Shattenkirk noted.
- Both Shattenkirk and van Riemsdyk have been linked to trade rumours this season. "We might have something to talk about in a few weeks," Shattenkirk said with a chuckle. "He's a valued guy all around the league and I think he's someone who could be a good piece to the puzzle for any team and, you know, maybe in Toronto for a long time."
- Toronto is determined to put forward a better effort than on Tuesday night in Dallas and, so far this season, the young group has shown the ability to bounce back from poor outings. The Leafs have lost six games by three or more goals, posting a 4-0-2 record in the next game while outscoring their opponents 22-13. But the Blues will also be a motivated bunch playing their first game under new head coach Mike Yeo. "Just because they changed the coach doesn't mean something magical happens," defenceman Jay Bouwmeester warned, "you have to go out and play the game, get back to work and use it as a wake-up call. It's sort of baby steps, one step at a time and hopefully we'll take one tonight and build some momentum." St. Louis has lost four straight at home (23 goals allowed) and five of six games overall.
Lines at Leafs morning skate:
Hyman-Matthews-Nylander
van Riemsdyk-Kadri-Marner
Komarov-Bozak-Brown
Martin-Smith-Soshnikov
Leivo
Marincin-Zaitsev
Gardiner-Carrick
Hunwick-Polak
Rielly-Corrado
Andersen starts
McElhinney