Rooney: 'Hard to envision' Brown at Steelers camp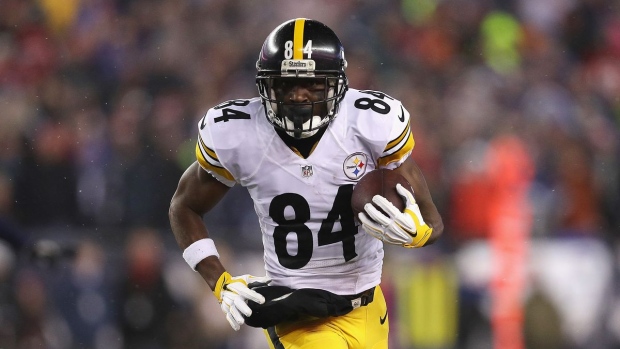 Pittsburgh Steelers owner Art Rooney said on Thursday that his team wouldn't be releasing disgruntled All-Pro wide receiver Antonio Brown, but that it would be "hard to envision" the 30-year-old at the team's training camp in July.
In an interview with the Pittsburgh Post-Gazette's Gerry Dulac, Rooney also indicated that "all other options are on the table" when it came to Brown's future, implying that a trade was a strong possibility.
"We'll look at all the options," Rooney said. "We're not going to release him, that's not on the table. But I will say all other options are on the table.Whether the situation can be reconciled and have him back on the team next year, we're a long way away from thinking that can happen. We're not closing the door on anything at this point."
Earlier this week, the NFL Network's Ian Rapoport reported that the team was looking to trade the Miami native.
Brown did not play in the Steelers' season-ending win over the Cincinnati Bengals, for what head coach Mike Tomlin described as Brown leaving the team in its "darkest hour."
"The bottom line is we were playing a significant game and he didn't do a good enough job of communicating of being available in the hours leading up to that performance," Tomlin said at the time.
In 15 games, Brown recorded 1,297 receiving yards and 15 touchdowns, setting a new team record for majors.
According to league regulations, nothing can be done with Brown until March 13, the first day of the league's new year. He is owed $22,165,000 against the cap next season and due a $2.5 million bonus on March 17.
Rooney says cap considerations will play a factor in how the Steelers move forward.
"That has to be taken into consideration, but, as I sit here today, I'm not going to say that's going to box us into anything," Rooney told Dulac. "If we decide something has to be done, we'll figure out how to deal with that."
Rooney indicates that the player has still refused to return phone calls from himself, Tomlin and teammates and did not appear for the compulsory end-of-season evaluation.
"My belief is there's more to it than an incident one day at practice," Rooney said. "That's one of the reasons I would have liked to talk to him about it — what it was and how it got to this point."