Rooney returns to Old Trafford on TSN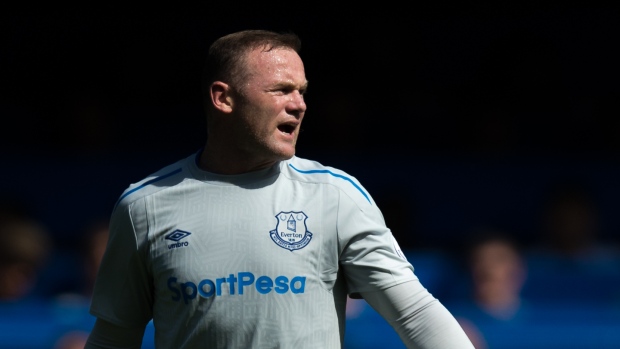 He arrived at Old Trafford as a 19-year-old with the world at his feet and returns on Sunday as a 31-year-old veteran with a point to prove.
As Wayne Rooney and Everton head to the Theatre of Dreams for a date with Manchester United, the legacy of the Red Devils' all-time leading scorer with 253 comes into question and right now, there doesn't seem to be a definitive answer as to where Rooney fits in the United pantheon.
You can catch Manchester United vs. Everton LIVE at 11am et/8am pt on TSN1, TSN4 and on TSN GO.
Though Rooney won 16 trophies at United after coming over from the Toffees in a £25.6 million transfer, including five English Premier League crowns and the 2008 Champions League, the esteem in which the club's 44th captain is held by the United faithful pales in comparison to the reverence held for other modern legends. Rooney is not spoken of in hushed tones in the way the likes of Roy Keane, Nemanja Vidic or even Cristiano Ronaldo is to this day. Why did Rooney never truly win over United fans?
As good as Rooney was – and he was exceptional on his day – there was always a sense that there should have been more. A prodigious young talent who announced his arrival to the Red Devils with a Champions League hat trick on his United debut against Fenerbahce in 2004, Rooney was the best Englishman in football for a time and maybe the best player in the Premier League. The Liverpool native posted 34 goal seasons in 2009-2010 and in 2011-2012 and played with impetuousness that was a double-edged sword. Rooney could go from magic to madness in a moment, but it slowed down quickly for the former England captain with 119 caps.
There were injuries, of course – Rooney appeared in more than 30 games only twice in his last seven season at Old Trafford – but it appeared over the years that there was a growing mental aspect weighing on Rooney.
Twice Rooney allegedly handed in a transfer request. In 2010, Rooney attempted to force a move through to Manchester City, which would have been the most explosive transfer in the history of English football. After claiming that United didn't possess the ambition required to compete in the EPL, Rooney made an abrupt U-turn and signed a new contract with the Red Devils. While he apologized to his teammates and fans, the relationship with supporters was never fully repaired.
After becoming second choice to Robin van Persie in 2013 for Sir Alex Ferguson, Rooney again asked for a move according to the legendary Scotsman.
"I don't think Wayne was keen to play, simply because he has asked for a transfer," Ferguson said after a May win over Swansea in which Rooney didn't feature. "I think he wants to think it through in his mind - I think that's a good idea. We're not going to let him go. I think maybe he is a bit frustrated. He has been taken off once or twice in the past couple of weeks.''
Again, Rooney didn't leave, but he also didn't regain his spot atop the attacking pecking order at United. After Fergie's exit, both of Louis Van Gaal and Jose Mourinho attempted to move their captain into a deeper role. Rooney, the midfielder, was a square peg in a round hole. With the stature that came with being club captain, his managers attempted to find a role for Rooney, but his time at Old Trafford was winding down and the clean break came with a free transfer in the summer.
Mourinho says now was the time.
"I think it is easy," Mourinho told Sky Sports this week. That way it is easy because you don't have to think a lot. You just have to respect the player's desire, and what they decide. And when they're a legend they deserve that freedom of choice."
And what about the return to his boyhood club?
Rooney back to Everton was always going to be more romantic than practical. More money could be made in a move to Major League Soccer or the Chinese Super League and that would have likely better suited Rooney when it came to the speed of football. The return to Goodison Park started off well enough.
It was Rooney's goal that led the Toffees to an opening weekend win over Stoke City at the Britannia. Then, Rooney scored at the Etihad – the site of, perhaps, his most famous United goal – in a 1-1 draw with Manchester City. Since then, things have gone pear-shaped for Ronald Koeman's side.
On September 1, Rooney was arrested for a DUI and on the pitch, the goals have dried up and Everton is struggling mightily. After being thoroughly outplayed in 3-0 and 2-0 losses to Chelsea and Spurs, respectively, in the league, Everton put forth their worst performance of the season midweek in a 3-0 Europa League drubbing at the hands of Atalanta.
What's gone wrong?
Well, for all of the attacking football that Koeman has promised, there hasn't been much of it in recent weeks. Pace is lacking and players better suited for central roles are pushed wide. As brilliant as a player like Gylfi Sigurdsson is, speed has never been a part of his game. The Christmas tree formation utilized by Koeman isn't fooling anybody and the team spends more time in their own half than any other team in the EPL through four games. This is unacceptable for a team that spent over £100 million in the summer.
Needless to say, any kind of repeat performance from Everton against the United team is a recipe for disaster. Led by former Toffee striker Romelu Lukaku's four goals in four league matches, the Red Devils' offence is carving teams apart with 12 goals scored.
As for United, the Red Devils will be without midfield talisman Paul Pogba, who picked up a hamstring injury in the club's 3-0 Champions League win over Basel on Tuesday. The France international is expected out for up to six weeks. Eric Bailly and Phil Jones are available for selection with their suspensions only applying to European matches.
--
POTENTIAL EVERTON XI: Pickford, Jagielka, Williams, Keane, Baines, Schneiderlin, Gueye, Holgate, Sigurdsson, Rooney and Sandro
INJURIES: Funes Mori (knee), McCarthy (hamstring), Barkley (hamstring), Coleman (leg) and Bolasie (knee)
--
POTENTIAL UNITED XI: De Gea, Valencia, Jones, Bailly, Blind, Matic, Ander Herrera, Mata, Mkhitaryan, Rashford and Lukaku
INJURIES:
Pogba (hamstring), Marcos Rojo (knee) and Ibrahimovic (knee)