Roughriders bring in QB Bridge for workout
The Saskatchewan Roughriders could be adding another quarterback to the mix. TSN's Farhan Lalji reports the team brought in National pivot Brandon Bridge for a workout on Monday. A native of Toronto, Bridge received his release from the Montreal Alouettes on August 1. The Roughriders (1-5) already have four quarterbacks on their roster and two more on the six-game injured list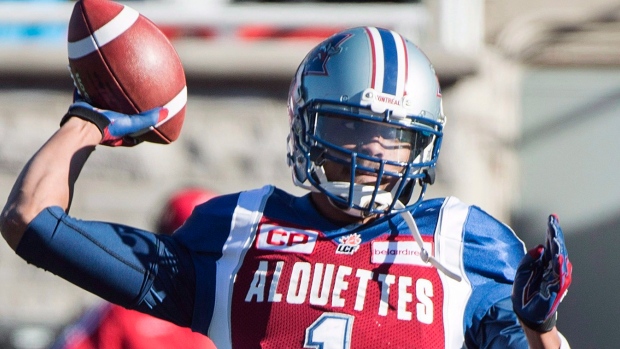 The Saskatchewan Roughriders could be adding another quarterback to the mix.
TSN's Farhan Lalji reports the team brought in National pivot Brandon Bridge for a workout on Monday. A native of Toronto, Bridge received his release from the Montreal Alouettes on August 1.
The Roughriders (1-5) already have four quarterbacks on their roster in Darian Durant, Mitchell Gale, G.J. Kinne and Vad Lee, as well as B.J. Coleman and Jake Waters on the six-game injured list.
Bridge, 24, was a fourth-round pick in the 2015 Canadian Football League Draft out of South Alabama. He appeared in 15 games in his rookie season, starting one, throwing for 282 yards on 26-for-40 passing and two touchdowns.
With the addition of Vernon Adams, Bridge was relegated to fourth-quarterback status behind Kevin Glenn, Rakeem Cato and Adams. After Adams returned from a concussion in late July, Bridge asked for his release, rather than remain with the team and take a pay cut.
Bridge appeared in four games this season for the Als, all in short-yardage situations and didn't throw a pass. He rushed for two touchdowns and two yards on three carries.
The Roughriders currently sit in the West Division basement and are coming off of a 35-15 loss to the Calgary Stampeders last Thursday. The team is next in action on Saturday in the back end of a home-and-home with the Stamps.